Quora has gained immense popularity over the past few years, both among businesses and the masses. It is easy to navigate and intuitive the Q&A platform. When I first started using Quora in 2014, it was still popular but nothing compared to what it is today. With over 300 million monthly users, Quora has evolved far beyond a simple Q&A platform.
It is a place where people tell stories and brands share their products and services. Users share their experience of using products or services. In the user's behavior, Quora finds a place in the same category as other social media websites. A large number of Quora users spend hours on the platform. So naturally, businesses have to develop a marketing strategy for Quora. 
The leads generated through Quora is of better quality and offers more conversions, sign-ups, and reduced bounce rate compared to popular social media sites such as Facebook and even SEO. The reason behind this is people who visit a question on Quora are genuinely looking for an answer.
For example, I was recently promoting a VPN service on Quora. We posted about ten answers for relevant questions, and within a few days, the traffic to the website skyrocketed from Quora. The conversions increased, and the client was having a difficult time handling customer queries. It happened because people who visited the questions wanted to purchase a VPN, and after reading the answer, it motivated them to visit the site, which led to sales.
The benefits of marketing on Quora are immense. One advantage is the long-term traffic that Quora offers. How to drive traffic from Quora, you ask? It's simple, respond to questions related to your industry and leave a link to your website. The answer and the link will remain on the platform forever. Whenever users look at the response, they can follow it to your site. Marc Hoag was able to drive 82.10 % of traffic from Quora to his business website. The example of Marc Hoag is just one of the many success stories of Quora marketing.
Using Quora to Assist your Digital Marketing Effort
In my opinion, large corporations and multinationals do not require Quora for advertising. Nevertheless, they need Quora for a whole range of other reasons, from customer feedback, interaction, introducing new products and services to reputation management.
It's the small guys, the startups, SMEs, self-employed, freelancers, and others who stand to gain the most from Quora marketing. Here are some benefits that Quora can bring to a business.
1.

   

Inbound marketing through Quora
The internet has become a confusing place with an extensive amount of content on any subject. It has also become highly untrustworthy. People want answers to questions from someone they can trust. The co-founders of Quora and current CEO Adam D'Angelo understand this and have developed the perfect platform with a voting mechanism that allows users to recognize high-quality answers. The upvote, which is similar to like button on other social media platforms, also plays an essential role in Quora. It is also a ranking factor for answers. Users are flocking this platform because they obtain genuine answers and reviews of products and services on Quora. As a business, you can share your expertise on a subject and provide resolution to user questions about your offerings.
2.

   

Quora Content Appears in Search Engine Results Page
Popular search engines such as Bing and Google crawl the content on Quora. As a result, more and more question-based queries on search engines are displaying Quora answers. By responding to such questions, you have a chance of driving traffic from the SERP. Ranking for a particular keyword is tough as you have to compete with highly reputed websites. However, with Quora, you have the opportunity to expose your brand to visitors without all the SEO hard work.
Here is an example of how Quora can attract visitors to my website without competition with Inc.com, which is nearly impossible.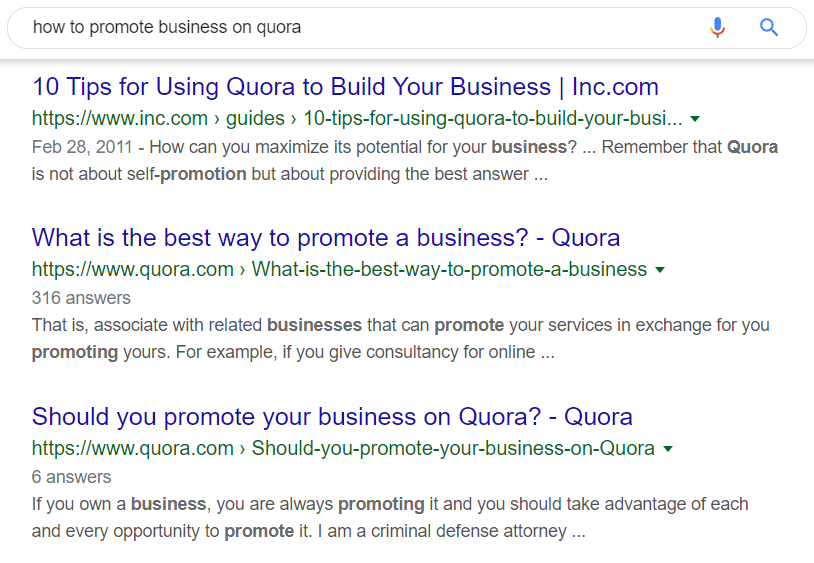 The unemployed pot-smoking brother of the search world – Bing – recently announced it would be including Quora questions and answers to their Social Sidebar. The search engine is using the Quora platform to provide better resolution to questions asked on their search engine.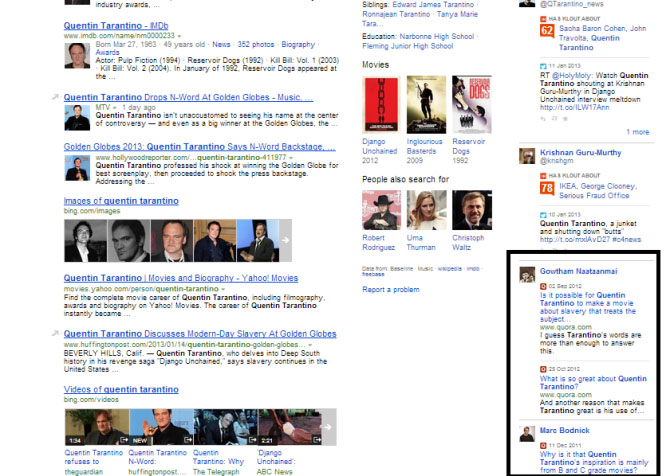 If Bing is not something you care about, it should interest you that Google has been crawling the content on Quora for a long time now. And their algorithm is super advanced in Quora integration. Based on their algorithm, they can choose a particular answer for a question, and it does not have to be the top answer on Quora and display it on the SERP.
3.

   

Industry Research and Competitor Analysis
The benefits of marketing on Quora extend further than traffic and conversion; it can help you understand your industry and competitors better. Watch what your competitors are doing on Quora. How people value your products in comparison to your competitors. What are they offering with their products and services that are not present in your offering? What are your pros and cons in comparison to the competition? Where it is appropriate, respond in the form of an answer. Carefully observe user queries, and you may even discover the next product idea or improvement that could make your product the best version by far. Overall, Quora is ideal for research and to find out the necessary enhancement in your product and what people think about your offerings.
4.

   

A Goldmine for Content Marketing Ideas
Small websites often run out of blog ideas. Quora is a great place to find content ideas and generate high-quality content. You can find questions with a high following and form a blog post answering the query; quality content that answers user's queries is a great inbound marketing strategy. Finding out genuine problems of clients and customers is never an easy task, which Quora addresses successfully. Go to your niche and read what queries people are following the most.
5.

   

Quora can Assist with Online Reputation
When you monitor the activity of the competition on Quora, you can do the same for your business. By setting up a Google alert for your business with Quora added to it, you will be notified of any post about your brand.
Here is how you can do it.
Simply visit Google.com/alerts and type your 'business name + Quora' and create an alert.   
Using the Google alert, you can monitor just about anything on the web and Quora. Utilizing this technique, you can immediately respond to negative feedback about your brand.
Conclusion
Quora with, its new milestone of 300 million monthly active visitors, is the ideal destination to promote your brand. From traffic, reputation management, content marketing to competitor analysis, Quora offers it all. So, do not fear the Q&A platform, be a part of it, and see exponential growth in your business.