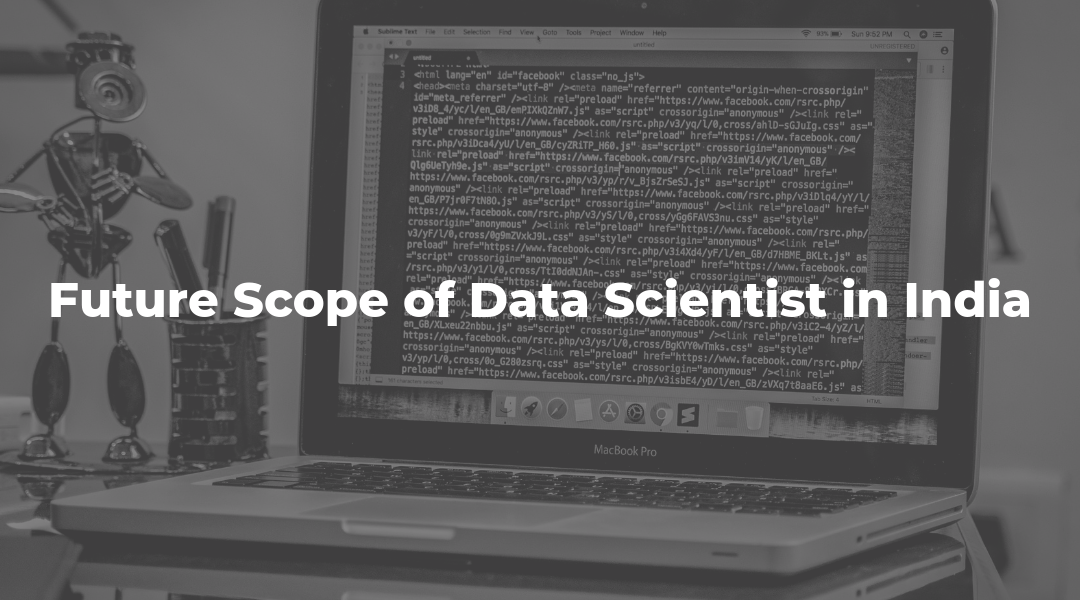 Data Scientist and Data science is always improving and change to a vast extent over the next ten years. We can clearly say that the Data Scientist will have a lot of scope in the future and companies looking for Data scientist will increase. The best jobs in the future you will get are data science jobs people opting for a data science course, and people will be looking for data scientist salary.
Future, Seriously requires Data scientists a lot and companies will hire a lot of Data scientists. If you want to build up your career in Data Science, having a proper Data science course is important to have a better foundation. There are a lot of institutes and online platform who provide this course. After you accomplish all the needs for being a Data scientist you are good to go.
What is a data scientist?
Data scientist are a group of data analyst who engraves all the required technical skills to solve the complex issues. Not just stop here, even find the problems that may arise in the future and answer those.
The Data scientist should be aware of mathematics; a computer researcher should be able to spot trends. A data scientist should be able to balance all the work, most important business and the IT-related work.
As they have to maintain a balance between all the stuff that is going on in a company, the data scientists earn a very high payment. So, this is the chance to grab it and be the one.
A decade ago the data scientists were not in the radar. But at a sudden, the popularity of the data scientists increased, and it changed the way how the businesses are feeling about data scientists and big data.
A company always has an unwieldy bunch of information that can be no longer ignored and has to be put together to get the business on tracks. The report is a gold mine that will help in generating revenues. To make information workable, a digger is essential, and that person is the Data Scientist who has to dig the gold and bring it out to earn revenue.
What exactly does a data analyst do?
A data analyst is not much different from the data scientist. Data Analyst converts the numbers into English that will let the company make easy decisions. The company usually have sales data,
Market Analysis,
Survey reports, Logistics, and others.
Now the Analyst has to take the data and analyze the whole thing and make the data usage that will help in choosing the better business decision. This may include a lot of things such as figuring out new ways to increase business, launching new products into the marketing, or managing the costs of the company.
There a lot of job roles for the data analyst for various fields such as operations analyst, marketing analyst, financial analyst, digital analyst and so on.
What is the scope of Data Scientist Jobs in India?
There are a lot of jobs for Data Scientist in India, giving a vast exposure to the people who want to be a Data Scientist. As we check Naukri.com one of the top Indian Job seeking sites say more than  25,000+ jobs are there in India just for Data Scientist. And as we checked LinkedIn one of the top job finding a site in the whole world, more than 14,000+ jobs are there in India for Data Scientist.
If we rely on the statistics, in the year 2015 there were 2.3 million job openings solely in India. This statistics even increased when it came to 2018; they estimated job vacancies were 2.9 million. We can say that the companies require some Data Scientist and the requirement will grow and can never decrease.
This clearly shows the requirement of the Data Scientist in India. According to the Indian Times analysis;
Recently, business report reveals that 50,000 jobs in Data Scientist and Machine learning. This shows how business analytics increased in India.
Data Scientist Salary: The average salary of a Data Scientist in India is Rs 6,34,645/-
We can expect that an experienced Data Scientist can earn up to $250,000.
You clearly see the scope of the Data Scientist and how the future will require a data scientist. There are a lot of online and offline platforms offering Data Science courses you can always choose.
Nowadays, online courses have become very feasible, for the best data science course you can opt Udemy.
What is the difference between a data analyst and a data scientist?
According to the Havard Business School Review:
Being a Data Scientist is one of the sexiest jobs in the 21st Century, and companies will require a lot of data scientist in future. Data Scientist is considered to be one of the coolest IT.
There are four different roles for Data Scientist:
Data Researcher
Data Developers
Creatives for Data
Data Businesspeople
The data analyst job roles constitute of four major tasks:
Data Architects
Analytics Engineer
Database Administrators
Operations
Qualification needed for Data Scientist and Data Analyst: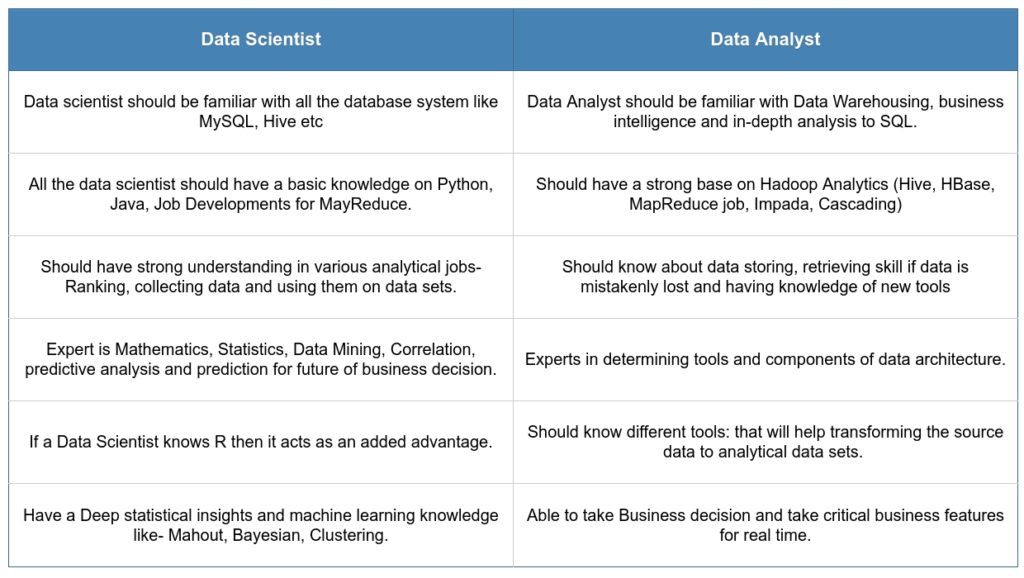 Job trends for Data Scientist and Data Analyst in Google trends:
While coming to the salaries of Data Scientist and Data Analyst, Data scientists earn more than that of Data Analyst. The average payment of Data Scientist is $117,000 on the other side the average salary of Data Analyst is $62,000.
We can say that Data Analyst is a part of Data science. They perform a variety of other tasks included in Data Scientist like collecting data, organizing it and obtaining the statistical information. Data Analyst is responsible for keeping the data in the form of Charts, Graphs, tables which are used to build the database for the company.
Can a data analyst become a data scientist?
Yes, a Data Analyst can, of course, become a Data Scientist, as earlier said Data Analysts are a part of Data Science. While their primary work is to convert all the Data, Market Research, Surveys, Collections into a healthy and understandable language. However, there are particularly important that should be taken into account if you want a data scientist from an Analyst.
Work with Different People
Try to work with various sets of people in different fields; it will let you grab the knowledge from diverse areas. Therefore, identify the right pool of team and connect with them.
Exercise your role
It is essential that you always keep on exercising your skills in the same position. This makes you analyze what you know and what is yet there to understand. You should still consider yourself as old enough to be a Data Scientist. It is because the Data Scientist position requires critical thinking and specific problem-solving skills. You should be practicing your Data Analyst skills to become a Data Scientist tomorrow.
Improve your Skills
Apart from just the Mathematical skills, you should be able to improve the model skills. This will provide you insight and lets you work with other people and helps you face the problem-solving situations. The best way of developing data science is to improve all your skills and try to adopt new skills and take on real-life issues.
Position yourself in Market
Once you have made your mind to shift to Data Science from Data Analyst, make yourself the best so that you get hired by the best. Therefore, you need to have all the necessary skills to grab the chance in the best organization. Gaining confidence to use various tools that will help you in work, and solve all the problems quickly.
What skills does a data scientist need?
If you are potential data scientist whatever the situation may be you will use any information to conclude. Craving into Data Science is what a Data Scientist do. Below we are going to mention the Technical skills and the Non-Technical skills required to become a data scientist.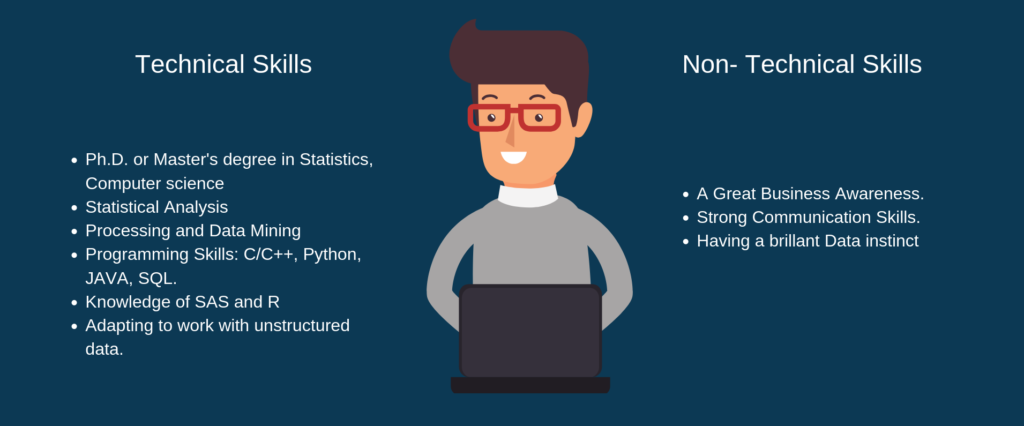 Technical Skills
If we consider the technical skills, then Statistical Analysis is most important. And should always have an analysis to leverage the power of computing the framework that can be processed, then presented all the unstructured data into structured data. This is one of the top-notch technical skill that a data scientist needs.
Programming Language: You need to have some basic knowledge on the programming languages such as Python, C/C++, SQL, JAVA. However, Java with Python is considered to be the most imperative Programming language for the Data Scientist. The Programming Languages are required traits in a Data Scientist to clean and structure the unstructured data.
Analytical Knowledge of SAS and R: The Analytical knowledge will help you extract the required data, valuable insights from the chunk of unstructured data. SAS, Hadoop, R, Spark, Hive are the most critical Analytical Tools that a Data scientist most know. However, there are a lot of classes that offer certification course.
Adapt Yourself: When we say that Data Scientist must structure the unstructured data. Which means the data scientist should be habituated and adapt themselves certainly so that they can solve the unstructured data from any junk of information. If the Data Scientist is working on Marketing related work, he should be capable enough to take out the relevant insights from the bunch of information.
Non-Technical Skills
So, the above were some of the critical technical qualities that a Data Scientist should have, now its time to know the Non-technical Aspects that a Data Scientist requires.
Awareness to Business: If a data scientist doesn't know what his business is, what his company is going through, and don't want to know how to make a successful business model, then all the technical skills that you know are useless. You can't learn the problems and get to a conclusion. Then technical skills are nothing because Problem Solving quality is the first tactic.
Communication Skills: As being a Data Scientist you will have a group of people working under you whom you have to address. Not just the people working with you even the one who is non-technical and new to it should understand when a data scientist explains. Strong Communication skills is a must.
Have a bright instinct: Want to be a great data scientist then have a greater intuition, because this is one of the top traits of the data scientist. Having a great instinct means having everything; it makes your path along the pile of all the information that you will find the moment you step in to become a data scientist. This is the work that makes a data scientist more efficient.
CONCLUSION
While we come to an end, it is visible that Data Science and the requirement of Data Scientist in India are increasing a lot. As we can see clearly, Jobs in Data Science will improve a lot.
If you also want to be a Data Scientist then follow all the things that we listed above. With all the technical skills that are required to be. Rest, it is you and your talent that will help you in landing a position like this.
If you need any help regarding Data Science and want to know more about Data Scientist job-related things in India. Do leave a comment below.