Google has bid adieu to the older version of Google Search Console. It has been two years since Google has updated the Search Console. On Monday, 9th September 2019, Google has announced that we will be getting an updated and new Google Search Console with better information.
Yesterday, in the morning, the Google Webmasters team made it official, in twitter and other Google platforms.
Google Team said, "We have reached another milestone in our graduation journey. An official Good-Bye to Old Google Search Console reports that even includes up-gradation of old dashboard and homepage."
The Google search Console help the businesspersons to monitor and improve the performance of a particular website on the Google Search Console. From now, all those who want access the Dashboard and Homepage will be redirected to the New Google Search Console, where you can find several legacy reports which are still there, and not yet been migrated.
You can access to all your reports through, an option in the Google Search Console that says, "Legacy tools and reports." It is easy to obtain from the list you can choose the type of report you want, then you check it out.
Below we are mentioning some new tools that you will see in the Updated Google Search Console:
International Targeting
Crawl Stats
Messages
Change of Address
URL Parameters tool
Web Tools
Check the infographic, below to know about the tools and reports and what are they useful for.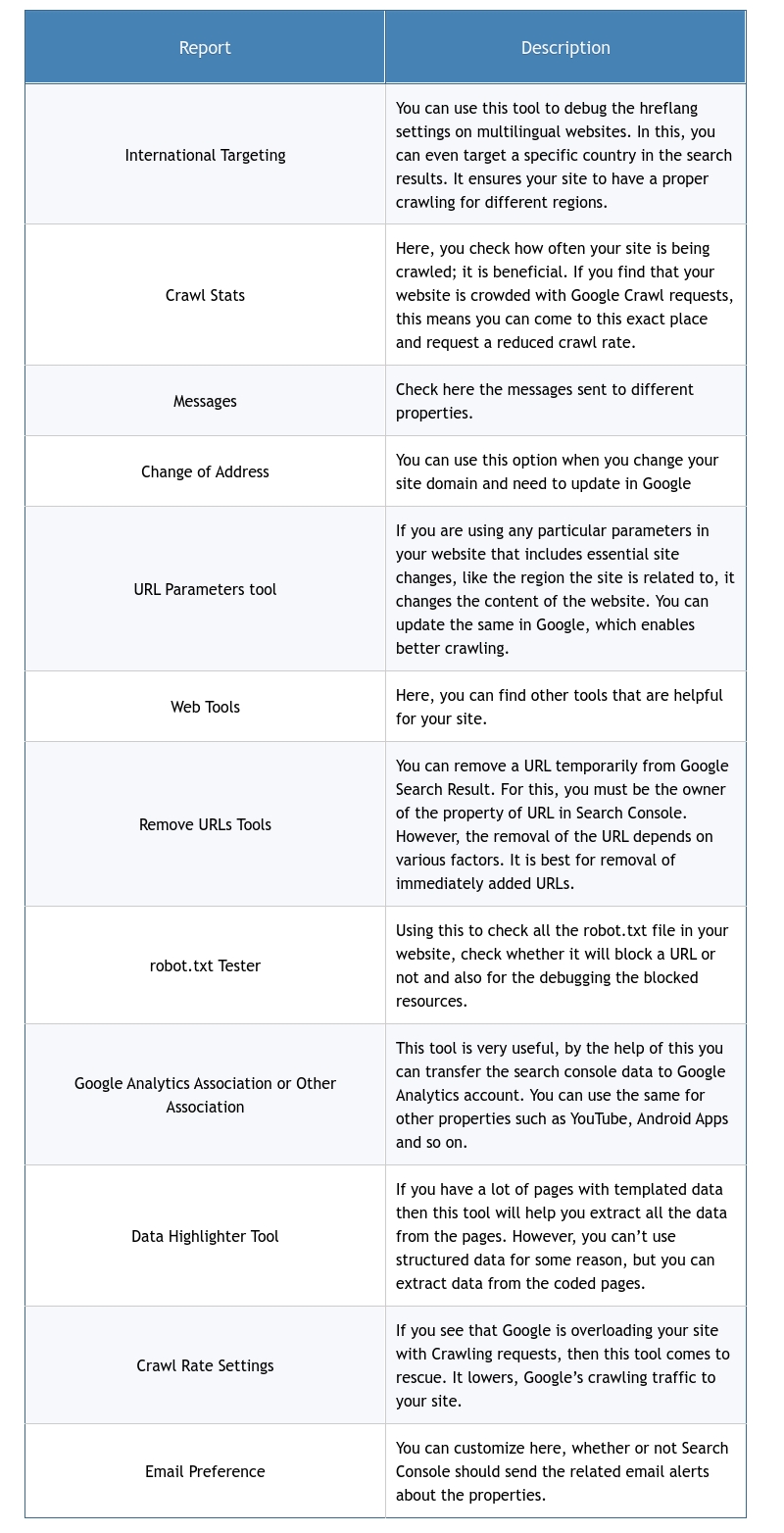 These are some new tools, and more are there on the list, that is very useful. All the links, are not yet working, even after you set up your Domain Properties in the new Google Search Console. To have access to all reports, make sure to check the Old Properties Access.
We can see, that from last year, Google is taking some major steps to improve the customer experience. Last year, 2018 Alphabet decided to close Google+, to protect the privacy of the people after it got breached. In a similar way decided to improve the customer experience by upgrading the Search Console. There a lot of steps that Google is taking improve the platform for its users.