LinkedIn Ads is a developing platform for Advertising. You heard of Facebook, Twitter for the Advertising purpose. It is a great choice to advertise on LinkedIn text ads and LinkedIn Ad campaign for your business growth. LinkedIn text ads play a crucial role in determining the level of advertising. Also, we will discuss how to set up LinkedIn ads campaign manager for your advertisements or commercials for the growth of your company or organization.
Furthermore, LinkedIn is a social network site specially designed for business and is so far the best place to professionally get in touch with all the similar profiles, improve your business through advertising, job posting, search for a specific skill set people, industry information and much more.
What are LinkedIn Text Ads?
LinkedIn text ads are the fastest growing trend in LinkedIn Ads methods. However, LinkedIn text ads are involuntary in nature, self-service kind of ads where you can easily create, edit and manage the text ads.
LinkedIn text ads can optimize your LinkedIn  Ad campaign and campaign budget. You can quickly achieve your desired results if these LinkedIn text ads are appropriately planned and executed. In addition, Social branding is easy through these LinkedIn text ads.
How to target audience on LinkedIn?
Targeting audience on LinkedIn is used for different purposes. If you are running an organization and wish to look for managers, you should be specific to what managers you are seeking.  Thus, this targeting audience on LinkedIn text ads is one kind of search tool where you can search for the required skill or possible constraint.
It is a way to search and find the right expertise through the job role. This way, you can also know a person's skill set, salary scale, and many such aspects.
How much does it cost to post an Ad on LinkedIn?
The LinkedIn job post cost per day is about 1.3 times of your daily pay per click (PPC) budget. For example, if you set a budget daily of $100, there are chances that it will cost roughly $130 per day.
However, with many CPC ads, it majorly depends on the target audience scale and also the competition. Consequently, the CPC ads will cost around $2 and will go up to $5 per click.
How do I pay for LinkedIn Ads?
Well, talking straight about paying to LinkedIn ads is through your credit card as we all know that LinkedIn text ads work through auctions and bidding.
You can choose your pricing levels, typically from either CPC or CPM. However, you can set your budget, control your budgets, bids, and schedule whenever you are willing.
How to optimize LinkedIn Ads?
LinkedIn Ads optimize the text ads and lessen the work pressure thereby increasing the profits. Again, there are some optimization practices which you implement will surely drive a large target audience and also LinkedIn ad campaigns. Some basic tips include:
create great content.
Include all the relevant content.
Add images
Use neutral and classy colors background.
Use call to action (CTA) phrases for easy understanding.
competitive bidding
How do LinkedIn Ads work?
LinkedIn purely works on the concept of cost per click(CPC). After you successfully create a LinkedIn Text Ad and a LinkedIn Ad campaign, you can choose the bidding options depending on your budget. likewise, there is some bidding competition available for the same kind of product, and then your bid level is also high. Similarly, LinkedIn is all in one advertising platform which will fetch great results when followed regularly.
How to create a LinkedIn Ad Campaign?
After discussion of fundamental topics, let us go little further and see about Linkedin Ad Campaign. As a result, you will have to create a Linkedin Account, know your primary audience.
To start with LinkedIn Ad Campaign, you should first
create a LinkedIn Account.
Understand the audience.
Copy of Ad.
You can add video. However, it is optional.
On  Linkedin Ad page, login page, see for the option "get started," this will further lead to two types of options "create an ad" and "sponsor an update" and then click on "create an Ad."
To brief about a sponsored update, it is a method of where you get a direct message to your home feed.
1. Create a LinkedIn Text Ad:
To create an Ad, you should fill in the details mentioned in the tabs. The name the campaign so that you will create a campaign name to further go ahead with the ad creating. Some of the attributes you should watch out are:
Campaign name:
In this tab, mention the name of the campaign to display the LinkedIn text ads. You can name appropriate name according to your website or services you offer.
Language:
You should select your preferred language over here. Word is upon your interest. However, you cannot get the translated version of your ads.
Media Type:
Under this section, select the basic version of media type. An advertise of the traditional or general format is chosen here. However, if you include a video, make sure to add a play button on the specific image you wish to keep.
LinkedIn Ad destination:
Under, ad variation, you will find the option Ad destination. Ad variation is the place where the ad destination decides. You can link the ad either to a LinkedIn profile page or an external URL. If you target more traffic to your website, then it is a must to include the external URL.
Therefore, if you want to measure the user engagement rate and the quality of the traffic of your website, then the external link is provided.
LinkedIn Ad design:
LinkedIn is a bit limited. So, you have to take care that the headlines and descriptions will not exceed the limit. Therefore, the headline character limit is 25, and the report is limited to 75 characters which of two lines maximum. To edit ads, you will find a preview on the right side. You can see the ad preview and can make the necessary changes. You can change even the images if needed.
LinkedIn Ad variations:
You can create many changes in a LinkedIn ad. For an ad, you can choose an external URL or a LinkedIn text page. The cost of the ad depends on the traffic you want for a page. LinkedIn text ads do not rely on the location of yourself.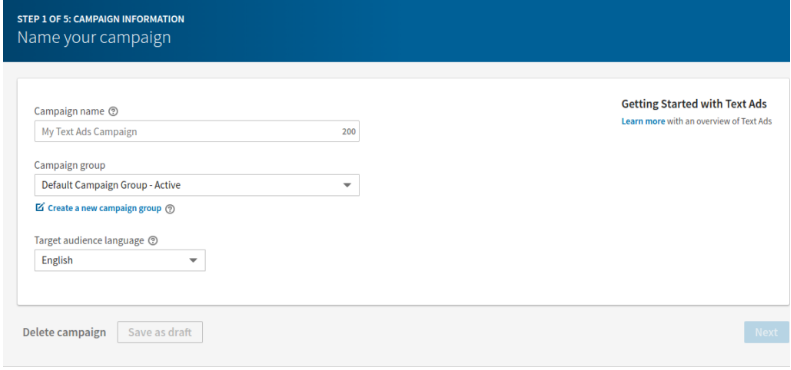 If the audience is not actively looking for your ad, then you can push the LinkedIn text ad page. Eye catchy headlines or question-based headlines will draw more attendance.
2. To Target LinkedIn Text Ads:
After, you create your ads, its time for targeting the same. The target options for LinkedIn text ad is a similar way to Facebook and Twitter. In LinkedIn text ad, you can search through the job title, skills, interests, employer, and company.
However, you can target the audience depending on the group name, gender and also age. Consequently,  in LinkedIn ad audience size is directly proportional to profits.
Therefore, if you feel your audience size is getting small, then you can take LinkedIn suggestions as settings to improve the target audience.
However, in the campaign manager, you can select the options and create the campaign button. Moreover, there are different types of the LinkedIn Ad campaign. There is a sponsored content, sponsored Inmail and text ads.
Sponsored content:
Equally important, sponsored content is the traditional way of advertising that usually appears on the LinkedIn feed page. You can drive new followers to a company based content. Some of the essential tips to take care while choosing sponsored content are:
learn more facts about sponsored content
You can use good content and vibrant images in the feed
Optimize the campaigns in real time.
Sponsored content uses on all devices like desktop, smartphones, and laptops.
sponsored Inmail:
On the other hand, sponsored Inmail is a unique ad format which allows you to give relevant data, personalized data through this campaign. The vital points on sponsored Inmail include:
You can reach the target audience on mobiles and desktop
conversations through personalized messages.
Reverberate with the target audience.
Learn more about sponsored Inmail.
LinkedIn text ads:
However, LinkedIn text ads is a budget-friendly option you can utilize. Also, LinkedIn text ad targets hugely. To select a language option, keep in mind that LinkedIn cannot translate the language. You can choose languages including Spanish, French, and German.
The LinkedIn text ad is pay per click (PPC) or cost per impression (CPM). Using LinkedIn text ads, you can have the advantage of the:
More information about LinkedIn text ads.
Pay for the ads that get clicked and works.
you can easily create ads and launch a LinkedIn ad campaign
3.Set Budget:
Similarly, coming to the budget, LinkedIn allows you a daily budget for $10. However, for best results make a budget for at least 100 clicks per day.  Plan your audience, so that every click is worth the money. LinkedIn text Ad generally works for a targeted audience.
4. Submit Ad:
Submit Ad is the final step in the to launch the LinkedIn ad campaign. In fact, one of the key features of LinkedIn is it will manually evaluate all the ads. However, your LinkedIn text ad will not be online before it goes through a review process.
Conclusion:
Therefore, following these simple LinkedIn text ad creations, and LinkedIn ad campaign, you can easily advertise your goals on LinkedIn successfully.
Hope this article has given you some idea on LinkedIn Ads, LinkedIn text ads and LinkedIn Ad campaigns. Therefore, when it comes to spending a limited amount, LinkedIn has many options.
If you want to add some more interesting facts on LinkedIn Ads, feel free to write to us, and we will update here.