Can AI replace the human writers? It is the well-known fact that the days are gone when Artificial intelligence was only being used in Science fiction movies. Whereas it is the time to accept that AI has taken over the human world. It has become a situation like we are living in the science fiction movie world. Due to the advancement in technology, everything is taken up by the robots or bots or chatbots. It could be somehow considered that AI can replace human writers.
Years, before AI generated content and SEO were just a part of a thesis. But now these things are slowly on a verge of becoming reality. We can consider the case of the phones first the telephone was discovered upon evolution the telephone become much smaller and compact. That contains more things than just dialling the people far away. Now the phone version is known as mobiles or smartphones.
The famous content writers are even saying that "People have already started using the Robots and the artificial intelligence to create the effective content and after 10 years people will start thinking how they have wasted such valuable time in making just content".
EVOLUTION OF AI CONTENT WRITING BOTS
The content writing bots came into lame light when an American Company known as Narrative Science came up with this idea in the year 2010. Whereas the background research was begun 10 years before. And it got worldwide recognition in the year 2013.
It all started at Northwestern University of Engineering and Journalism as part of the research. Kris Hammond and Larry Birnbaum are the co-founders of the Narrative Science. And their first discovery was QUILL using Artificial Intelligence.
This software is basically used to write the content and article's for school or college level sports events. And articles on the financial earnings of a company. The articles written by this software are very natural and matches human written articles.
The companies like Amazon, Deloitte, Indix, Factset use Quill software for their daily updates.
Narrative Science has got a lot of appreciation and recognition for Quill. In the year 2017, it was listed in top 50 companies who are leading in artificial intelligence. In 2015 they were listed in CNBC's Disruptor 50 list.
Below are some of the robot writers that are nowadays being used to produce millions and billions of content. After which you can easily analyze "who are the better writers- bots or humans?".
QUILL
Quill is the artificial intelligence bot that automatically communicates the crucial data at a scale. It helps in realizing the potential of the untapped data. To make it easier for the people to understand it and get the relevant result. The company Narrative Science distributes it. The NLG or the Natural Language Generation platform automatically generate the content, analyze it and communicate the data the way you want it.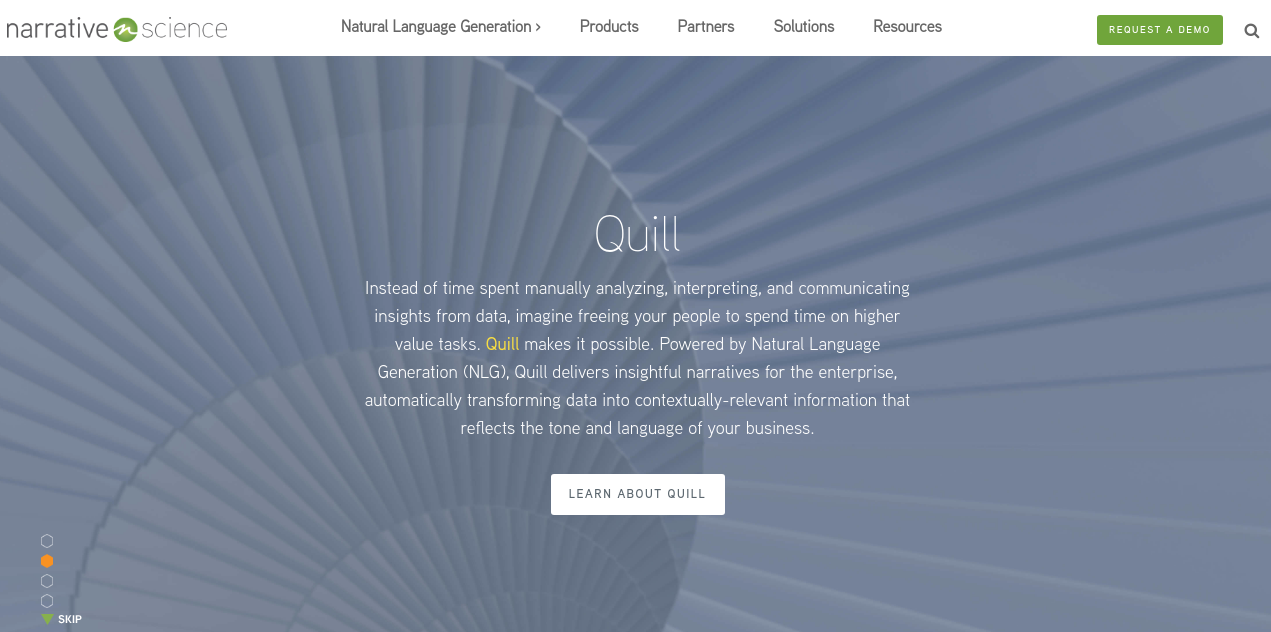 (source: Quill)
Down the route, Quill gives the users an image of a powerful and a useful NLG technology. And builds up a strong and potential NLG technology. This software performs more complex tasks in an ordinary desktop.
The biggest advantage of Quill is that it has a high ability to generate the potential, targeted and insightful content and narratives from the analysis of the human and machine data taken. It even imitates the style of writing that a sports writer does and can fabricate 1000 more such articles. This indicates that the technology has advanced a lot in making the work of the humans easier.
AI bot quill and pricing
If a Sports article is considered, Quill can create 1000 more articles that are effective and genuine. All the articles are generated instantaneously without wasting a lot of time. The articles created would be different for every sport and maximum would be similar of the type that is written by the Sport's writer.
According to the technological review, Quill can write up to 1 million words per day. There are a few top companies like Forbes, US intelligence etc those are using this bot.
While moving to the price of this Quill bot, this is not available online easily. After effective research, it was found that the price of the Quill differs from articles to articles depending on the type of story. It will cost $70,000 dollars per year for maintaining the same story type whereas it will create 100,000 stories. And the pricing differs for different story types.
ARTICLE FORGE
Article Forge is a tool that automatically generates the article if a topic is being entered.  It is considered as one of those tools that incorporate deep learning and understanding of algorithms to create the article similar to a human-created article.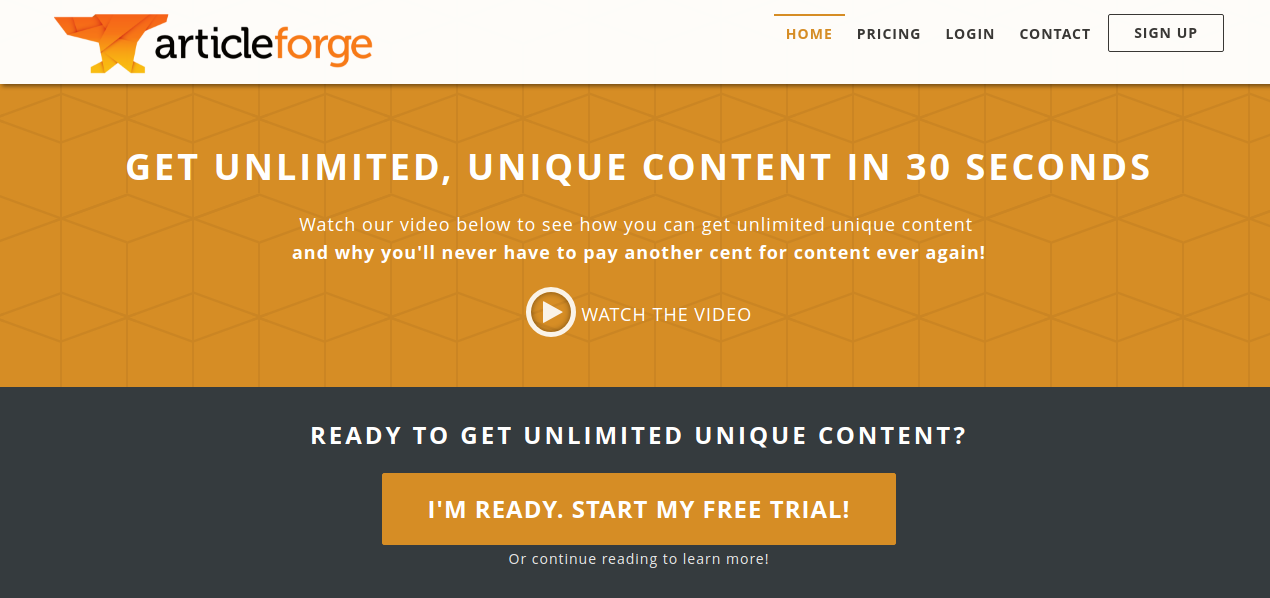 It doesn't just end up with creating the article it manages both material generation and publishing. Whenever you enter a certain topic about which you want to write. Article Forge search about that particular topic and checks millions of the article related to it and then fabricate the whole article in its own words.
It can also be considered as the only tool which checks on different articles and then has the capability to write its own article. It searches and writes an article just like a human being. These things help in creating a very high-quality content. The content written is of high quality and helps in link building.
While creating the content it adds all the Titles, links, videos, images etc into the content automatically.
Below is a content created by Article Forge: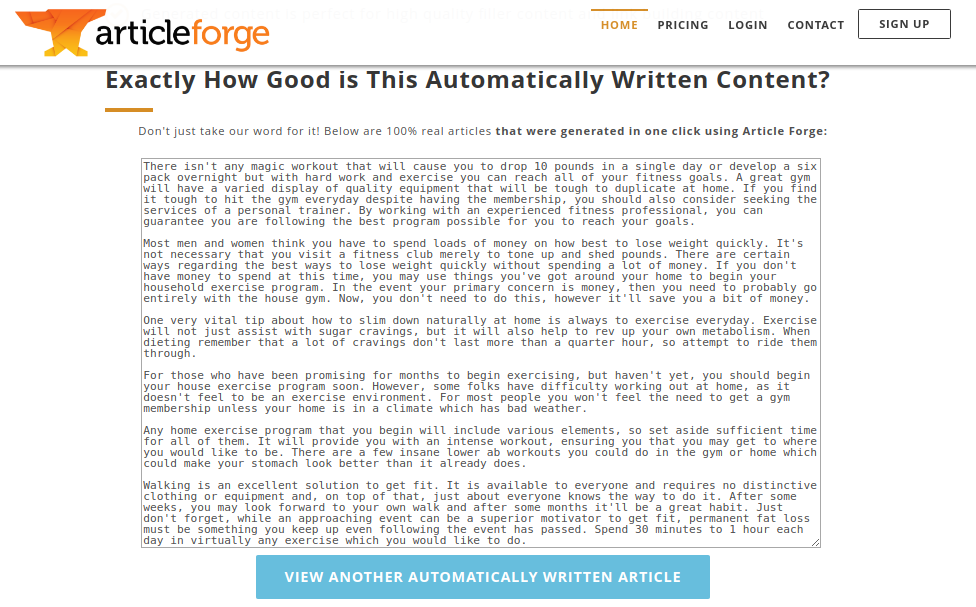 This tool can generate Content in 7 different languages that include English, Dutch, Spanish, French, German, Italian and Portuguese. Articles in all these languages have the foundation as Artificial Intelligence that incorporates in Article Forge. Knowing so many languages makes the tool a versatile tool as it knows some other languages besides English.
People who are interested can have a 5-day free trial. After which they have to subscribe by paying a certain amount. You can register in it on a monthly basis or on a yearly basis.
HELIOGRAF
In the year 2016 for the Rio Olympics, one of the largest American newspaper The Washington Post came up with a bot which was created using Artificial Intelligence known as Heliograf. This bot will post all the updates that take place in the Olympics and also write about the ongoing events and sports. It even creates content about the basic sports aspects.
This bot every morning in the early hours used to post all the updates about the events. That took place just before a day and also updates of presently ongoing games in the Olympics. In which not even a single word would be recommended by the human. The bot itself does everything. Below is just an example that the bot used to post on twitter.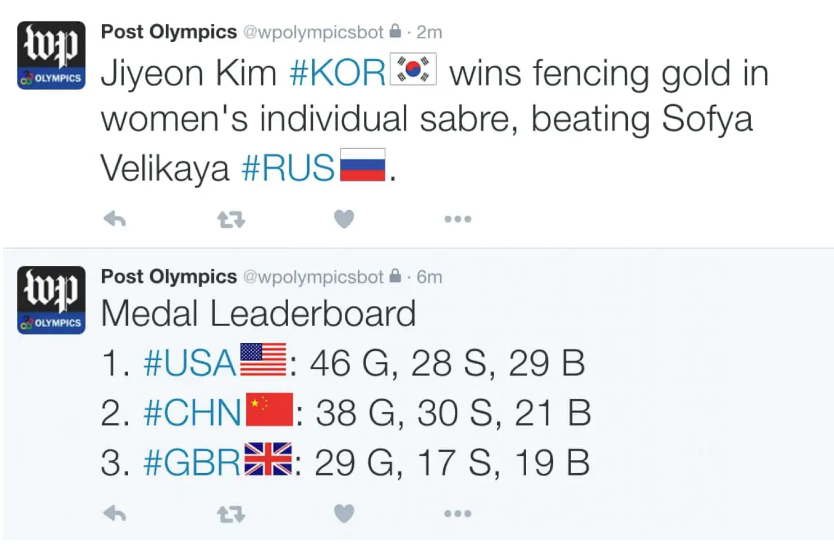 Heliograf: mostly used bot
This bot was developed specially to make the writers free of the task of posting updates on the social media sites. And this bot will just concentrate only on the simple aspects of the games like updating the scores, medal counts for different countries etc. It focuses mainly on the things that are data related and statistics related. Which provides free space for the writers to concentrate on other complex tasks.
Till the year 2017, this bot created 850 articles including the high school sports update and automated sports earnings which the bot does with much more accuracy than the human beings. Heliograf Bot won the first award for 2018 Global world Biggies award in the field of "Excellence in the Use of bots"

This is what the judges of the Global Biggies Award had to say about the Heliograf Bot.
Whereas, now this bot is not available for sale in the public. The full rights are with "The Washington Post" which they don't want to bring it to the market.
HEMINGWAY
It is regarded as one of the most convenient and easy to use tool for Article editing. And this tool is free of cost. We just have to enter the text that we want to check and edit. After which it highlights all those sentence's which are complex and hard to read and all those words which are adverbs and are excess in the content. It even shows those phrases which have passive sentences and are needed to make them in to active.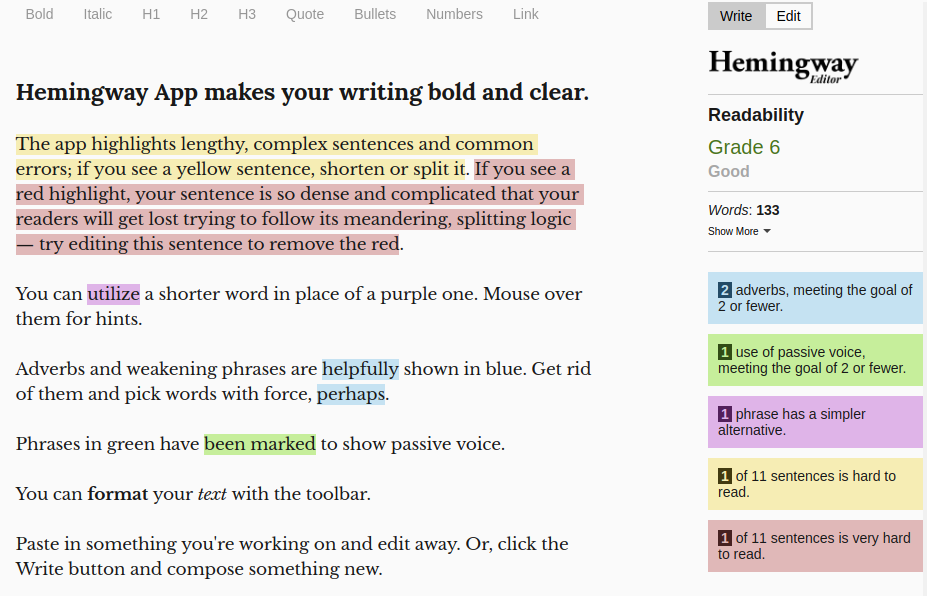 You can see clearly the tool here is styled according to a document. It highlighted different phrases which have different problems. It even shows the readability score and whether the content is good enough or not.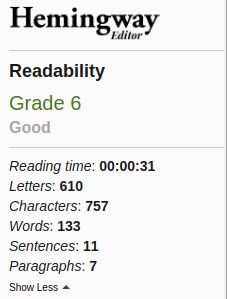 There is one another bar after the readability score. Where you can see the reading time, letters present, characters used, total number of words etc.
Once you have completed all the editing in the content you can download the file .html extension directly in your desktop or laptop. And the most amazing thing here is, it is free of cost. You just have to download it for your desktop or laptop.
WORDSMITH
Wordsmith is another Natural Language Generation or NLG platform that takes down all your data and transforms it into a narrative insight. Frames the whole data into a narrative story and gives it a more human touch. For the different industry and the medium how they communicate.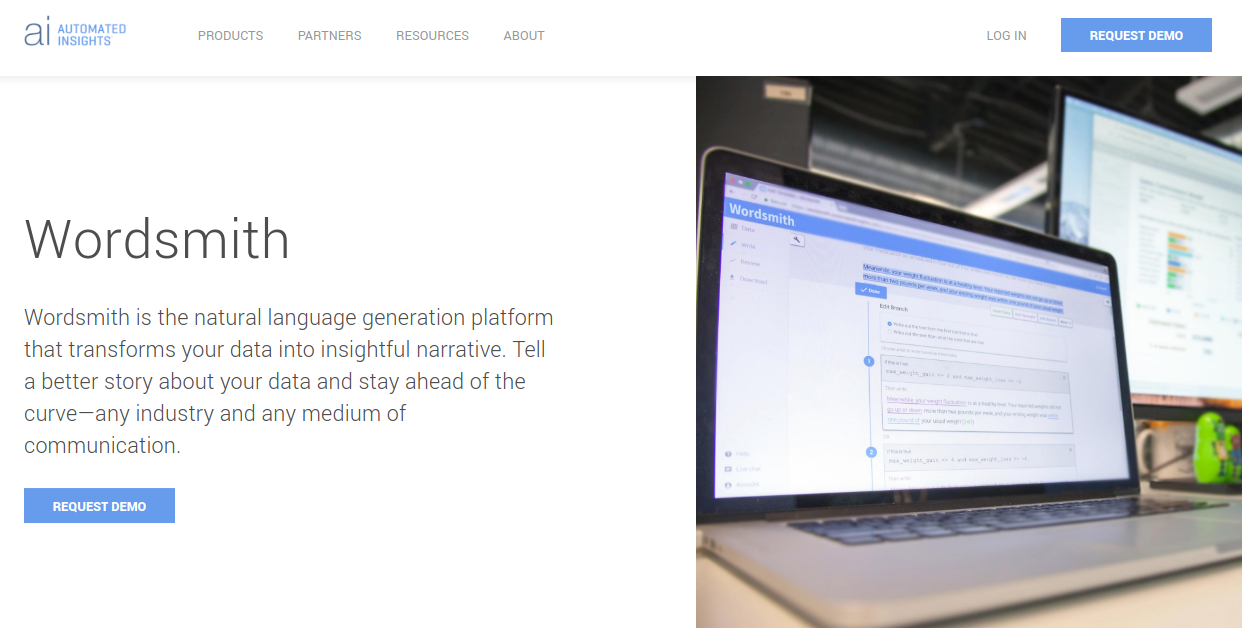 The world's largest Newspaper media group "The Associated Press" use this Wordsmith bot to generate effective quarterly earning articles.
The Associated Press uses the platform Wordsmith which was developed by the Automates Insights. It takes the raw data provided and then transforms it and different stories can be published easily that could be comfortably understood by the normal people. This involves all the earning details covering quarterly and more stories including the previous efforts.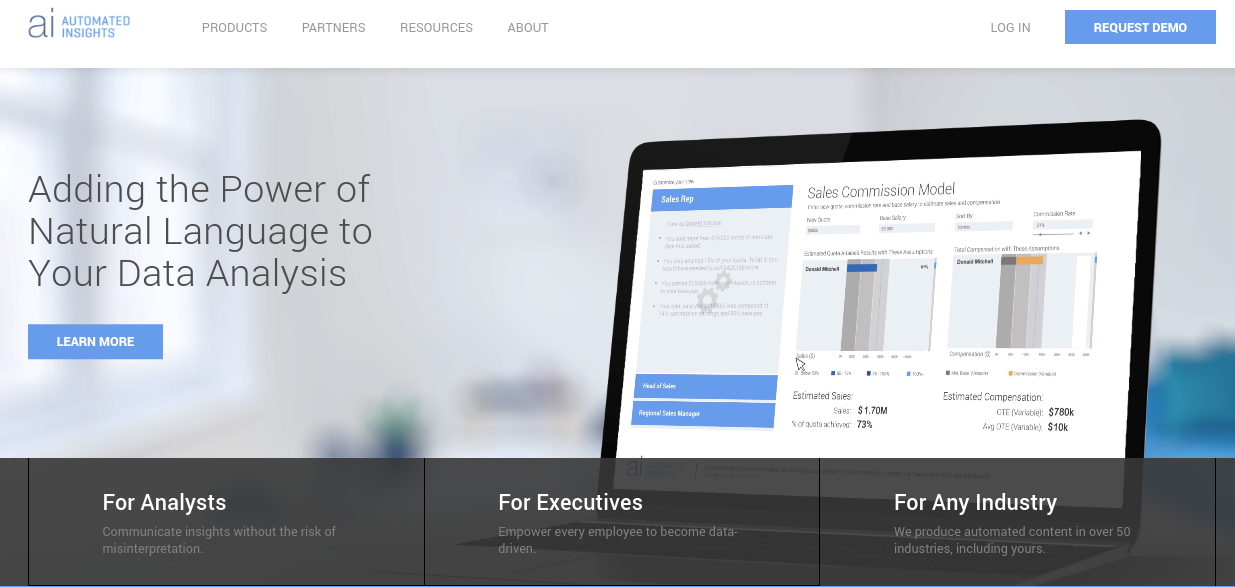 Not only about the financial earning Wordsmith even went to write about the Sports leagues most of the school leagues, college sports and small basketball or baseball leagues.
The biggest warning that comes up with Wordsmith when you opt for it is. It requires a lot of human instruction to write down a relevant and effective content.
The financial business of Wordsmith
Firstly, we have to give it all the raw data whether it is for sports or for quarterly earnings for a financial business. Then we have to arrange all the data in a systematic manner according to the industry to which it belongs. Before providing all this to Wordsmith it should be checked that whether it could interpret it and narrate it accordingly. For which human beings have to create a template accordingly and provide the guidelines to the bot to work efficiently.
The Associated Press provides all the guidelines in an AP style format among all the templates, to write the reports. After giving all the details to Wordsmith it will provide a report. Wordsmith works for all the platform irrespective of the industry it is going into. NLG is not just for the big companies and supports only the huge MNC. It is for everyone who wants to get benefit from it.
While coming down to the price. "The Automated Insight" has not mentioned the price anywhere. If anyone wants to know more about it can go up for a free demo and know about the price.
ARTICLE GENERATOR PRO
Article Generator Pro creates the content which is plagiarism free and requires less human input. You just have to give the topic it will create awesome content related to it. The articles generated by Article Generator Pro are professionalised. You may require a content for the different purpose may be it for the school essay, college assignment, or business work. It will give you the best content without any plagiarism and gives an edge in content fabrication.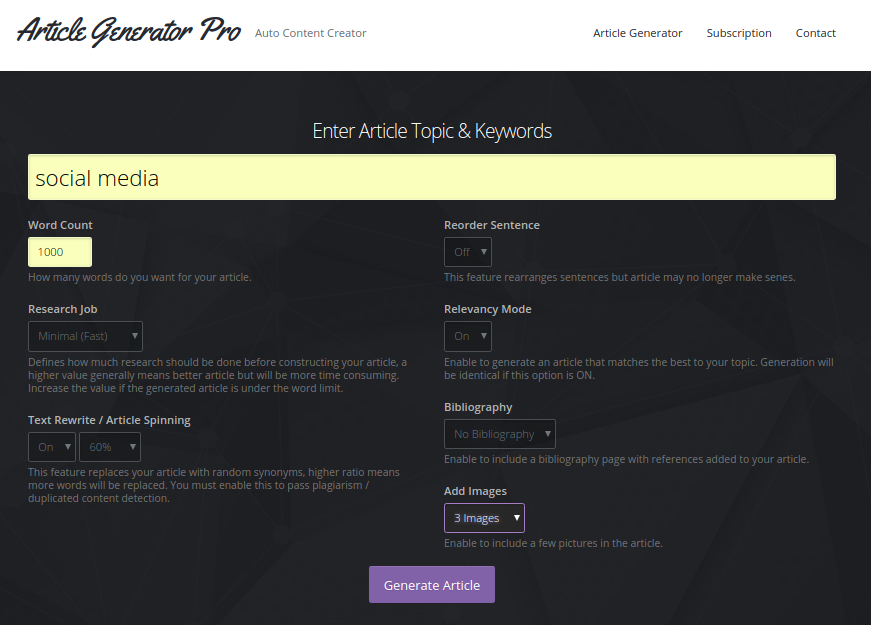 You just have to fill out all the required things. Like the topic, a number of words you want to concentrate, text rewriting, images required etc. After giving all input the Article Generator Pro will analyse everything and create an effective article. Not only just an article it can create an essay, thesis, report etc.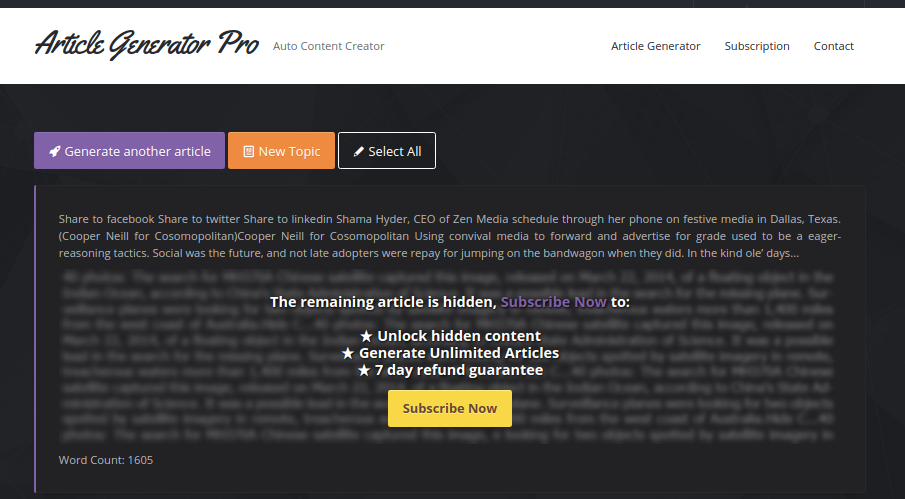 As we know everything comes with a price. You have to subscribe to it. To avail the automatic article generation.
But, if you opt for this tool it will automatically do research on the given topic. It contains a smart inbuilt algorithm which helps in reframing the information that it got from various searches. Basic, user input is required nothing more than that. Automatically write the bibliography and gather the images to have an effective content. In total it can be considered as a cost-effective tool for content generation.
ADVANTAGES OF BOTS
AI bots can effectively reduce the workload on the humans. Like it improves the area of growth and provides the writers with a wide area to experiment and get good feedbacks.
Time taken can be reduced. The bot can help the writers partly by giving him the lines. The writer can use his creativity and incorporate this lines. That's where an effective content comes up.
In content marketing, there is a lot of work to be done. From creating the content to using relevant keywords, using the images etc. Ai bots can replace all these kind of hectic works.
The technology keeps on evolving. In the field of AI it is never ending so it is expected to have a lot of advancement in Artificial Intelligence that will make the work of writers easy.
WHY CAN'T THE HUMAN WRITERS BE REPLACED?
If you are worried thinking that may be AI can replace the human in generating content. And maybe you are worried about your future as a content creator. Then there is nothing to worry about it. Below are a few points which will help you build up your trust on that human writers are irreplaceable.
Trust Factors
There are a lot of people who are still not sure about AI and its application in technology. There are a lot of reasons which influence these facts may be because of the Mass media, cultural backgrounds. Usually, people will like to trust a human being than any bot or the algorithms that are embedded in it.
Moreover, when the creativity factor is considered. Bot are machines which are not at all creative as a human being is. The way a human can convert his emotion, and creativity into a content can't be found in a Robot.
This is another major factor in creating mistrust for Robots in humans.
Bots don't have Human Sense
Bots, Robots these things are made by humans to ease human work. That doesn't mean that they could replace the humans. Bots don't have any emotions, love, hate, memories etc. they can't even show preferences. Which a human being has. Writing an article, blog, poem, story etc. should contain a human touch and feel. Bare sentences consisting of words can't impress and draw a person's attention. Whereas a human's deep thoughts scripted into a content can.
When we move towards stories. A person tells a story which he has experienced or heard. Similar a person writes a story when he has experienced or something has impressed him. These all things the Robots doesn't have.
There are a lot of tools available on the internet platform. Which can write the content for you or just rewrite the content if you enter the original one.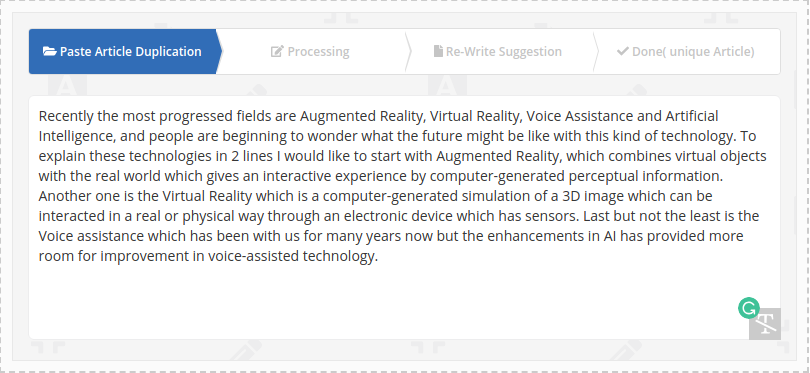 This is the original content written by a human being. Whereas below is the content that is just rewritten by the bot.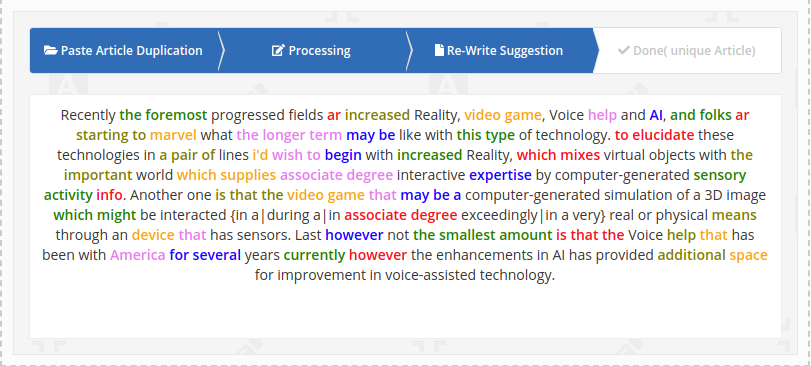 These two images show a huge difference in between. The Bot created content just changes some words and their meanings. Which makes the whole content different and not to the point. You can know easily which is bot written and which is human written. It has a clear difference.
All that a content needs is a human touch, his strategy, feel, experience, instruction to carve out a wonderful article.
Bugs in AI creation
AI creates a lot of content in just some time. This is one of the major drawbacks of AI. Because a number of contents will have a number of bugs. And it does tons of action in a few seconds which increases the risk of having a lot of mistakes.
If you have a typo error in one post then it will show up to all the customers. And everyone could easily view it. For which again a human hand is required. To remove all this kind of errors.
People are always curious about new things that come up in the market. But everything has some pros and cons. Similarly for a chatbot if it is in a discussion. It will stop after a certain extent and can't continue after it due to its programming. And sometimes it gets some bugs in it also.
Bots are very expensive
The content generated by the Bots are very expensive. Above as we have discussed Quill it charges $70,000 per year to generate the contents. Being a content writer I have been using Hootsuite to manage my social media campaigns.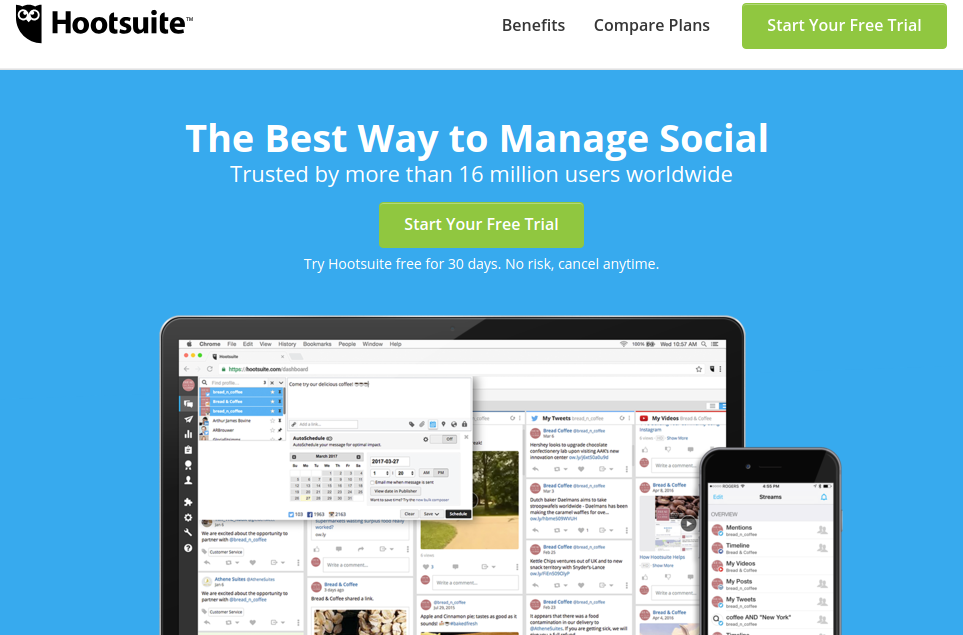 Here, for the first one month, you have a trial period after which you have to pay some amount on a monthly basis to be a member and use this bot. It is not too much expensive as compared to Quill. Here you can manage all your social media ADs, campaigns etc. You have to just set the things like in which social media platform what you want to post and at what time. According to the time and information given to it, the bot will post accordingly.
You can even avail a free demo of the Hootsuite. You have to go the free demo place and register your self then the Hootsuite people will revert back to you.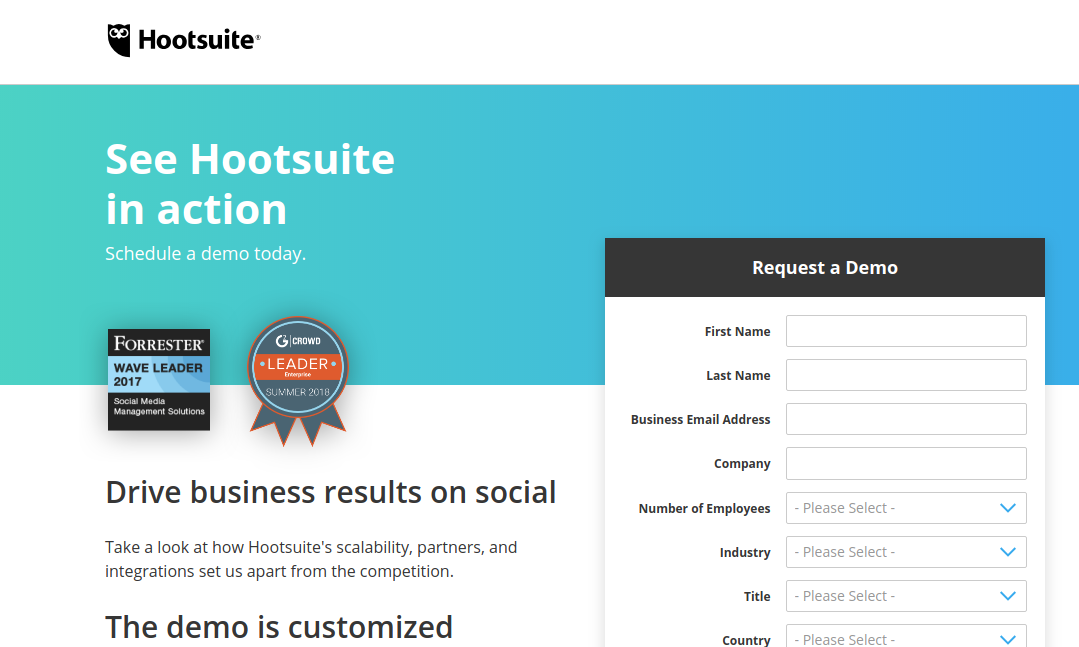 For a bot, every instruction has to be given by a human only. It can't work on it own and it is very much mandatory for a human touch. Apparently which means you get only that, what you pay for.
Bots connection with Humans
Bots can't be related and can never be as sympathetic as human beings. Unless a Robot comes travelling from the future.
Suppose we consider a statement "Digital Marketing has become an important and primary thing for any company's marketing strategy these days".
Why does this sentence stand so still and powerful? The connection of one human to the other who relate to each other. And experience the different things that are going around them. There are a lot of people who are on social media, follow blogs, Videos, youtube. Why people follow the PEOPLE, not any bots? because people connect people, People doesn't connect bots.
This is where we come to a conclusion Human writers can never be replaced by a Bot. Because human connects to human, not to bots. And the connection is always an important and primary aspect of writing.