In this progressive world of cut-throat competition, one can't afford to be left behind. One crucial parameter of always being in, and winning the rat-race is to go with the flow – be tech-savvy and constantly upgrade oneself. One has to keep abreast of the latest happenings and also be open to learning. Yes, learning is a perennial activity. The technological age is no less than the age characterized by 'Survival of the Fittest.' One has to constantly sharpen his/her axe.
Learning the latest know-how, imbibing advanced skills and gaining knowledge is not only mandatory, but also expensive. Well, if you have the zeal, nothing can come in your path. Knowledge is Power and we show you how you can amass it without spending a single penny. Sounds interesting? Doesn't it?
In this article, we enlighten you on some of the best e-books for digital marketing trends that come free of cost. All you need to do is just log in, download the e-book; Hey and Presto! You have a plethora of knowledge before you.
All the e-books for digital marketing mentioned below are recommended by top digital marketers and will help you unwind various aspects of digital marketing trends.
COMPLETE GUIDE TO SOCIAL MEDIA FOR B2B by Salesforce
The first best e-book for digital marketing trends that comes to our mind and tops our list is "Complete guide to social media for B2B".
(Source: Salesforce Pardot)
Social media is a lot more than just making friends, poking, tagging, uploading images and videos etc. In fact, social media has changed the way of conversation, most importantly in digital marketing. The effect of social media is enormous when we opt for the B2B marketing.
Marketers are now focusing on Social Media, because people all around the world connect with each other only through social media – Yes, the reason as to why businesses are shifting their focus more towards Social Media!
Social Media is a widely used tool, with the help of which, marketers easily connect with their clients, involve in regular conversations and interact seamlessly.
Navigation in Social media can be quite difficult and challenging. To ease your work and help you wade through this difficulty, Salesforce has come up with this e-book for digital marketing. An e-book that gives tips and tricks on how to work on social media, and how to leverage your social media campaign.
The e-book throws light on the metrics which is required to be tracked, the content that is appropriate for the work and that can support all platforms. Most importantly, how to grab viewers' attention, and how to convert viewers into customers, through the medium of social media.
DATA DRIVEN CONTENT MARKETING by Uberflip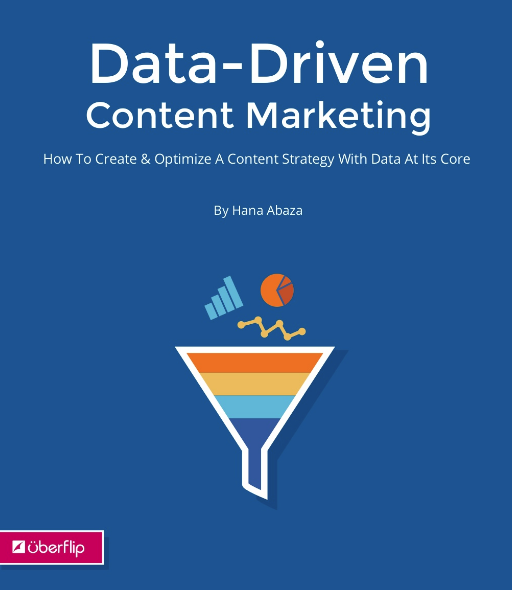 (Source: Uberflip)
Content marketing is very important and plays a pivotal role in making any digital marketing strategy successful. Content marketing is not so easy as it appears to be. In fact, it requires proper strategy and planning and one should understand the deeper concept of content writing in digital marketing trends.
Knowing data analytics and implementing it in work is extremely crucial. Analytics doesn't only help in making the right digital marketing decisions, but also helps in deciding whether the content you have written is performing, underperforming or overperforming.
In Data-driven content marketing e-book, you can learn about the content in detail – What is content marketing, how to write, what to write, etc. The e-book for digital marketing also contains information on how to create effective content.
This e-book focusses on an in-depth study of content marketing and the strategies involved in it.
BEGINNERS GUIDE TO SEO by Moz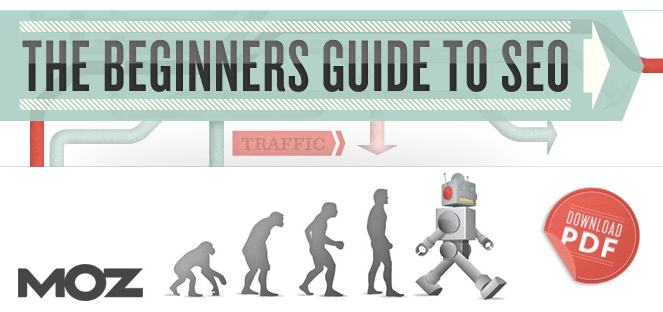 (Source: Moz)
Moz provided one of the best e-books related to the latest trends in digital marketing. It provides some of the best SEO tools that help in various ways. This Moz Beginners guide to SEO e-book is not like any other usual e-book for digital marketing, it contains the important topics in the form of articles. When you browse through the e-book, you can easily understand the concept as all the articles are arranged in the form of topics.
There are a lot of e-books for digital marketing that are available for free on the internet platform. The Moz e-book has been read by millions of people n number of times. It is the best e-book available for beginners in digital marketing.
This e-book gives full details about the major topics in digital marketing that is SEO or Search Engine Optimization. You can learn all the strategies that should be implemented to make a website rank higher than the others and make it search engine friendly. This also includes information on topics like how to increase interaction with people, ow to improve rankings, how to use the keywords and why is content so important?
HOW TO BUILD WORLD CLASS INTERNET LEAD GENERATION PROGRAM by Peter Geisheker
(Source: FreeEbooks)
Every marketer's dream is to increase the number of leads. This "How to build a world-class internet lead generation program" is the best e-book on digital marketing trends and focusses on how to increase the number of audience for the business. Not only this, the greatest challenge lies in converting leads to effective customers.
This e-book for digital marketing explains everything in an elaborate way. It focuses on inbound content marketing, and the different ways we should opt to make effective content that will attract targeted customers. In this book, you can find the various tricks of the trade like remarketing or how to adapt it to increase the lead generation and how to use social media in promoting the same. These are just a few of the important tricks that are mentioned in the book.
The Author, Peter Geisheker also wrote details about internet sales funnel. You can learn how to advertise on the Internet platform and engage people and drive them to your website. This e-book also contains detailed information on how to use a dedicated landing page in sales.
TOP 25 SOCIAL MEDIA STRATEGIES by Buffer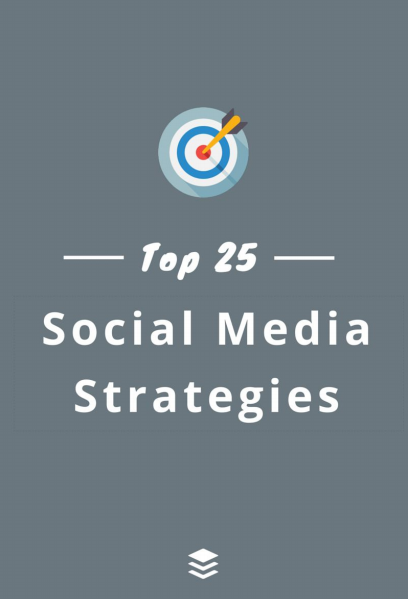 (Source: Buffer)
Social media is considered as a major base where people across borders connect with each other seamlessly. After all, the world is now reduced to a global village. Marketers turning towards social media has become a regular practice these days. To concentrate on social media, it is essential to come up with good strategies and take careful steps.
Retracing our steps and going back a few decades from now, we understand that Social Media was not so popular and marketers never concentrated on it. Back then, people had the impression that social media marketing meant working in a new territory. Now, working in this territory has become highly essential.
Finding the best e-book for digital marketing trends, that too in social media is a bit difficult. To make things easier for you, we help you with this e-book, that consists of the top 25 social media strategies, which are filtered out from all the top-rated blogs on social media. All these 25 tricks are tried and tested, and only then rated as top social media strategies.
THE OPTIMIZATION SURVIVAL GUIDE by Optimizely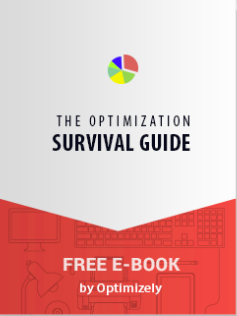 (Source: Optimizely)
Marketers get a better overview of "What are the customer needs?" and "What is it that they want?", with the help of optimization and A/B testing. The main aim is to optimize the conversion, which is not a cake walk.
A lot of testing and experimenting is required. The optimization survival guide e-book for digital marketing contains complete details on how to achieve a conversion. It contains 30 best and top-rated tips from top marketers, who can show you the path of "how to become a successful marketer."
The e-book contains tricks on how to sidetrack the roadblocks and helps to take the testing or the experimented program to the next level. It even tells what you must expect when you go for a certain optimization strategy.
This e-book helps you analyze your strategy and trail a hypothesis from it. This helps in building the best version of testing.
50 SHADES OF GROWTH by Sid Bharath and Danny Halarewich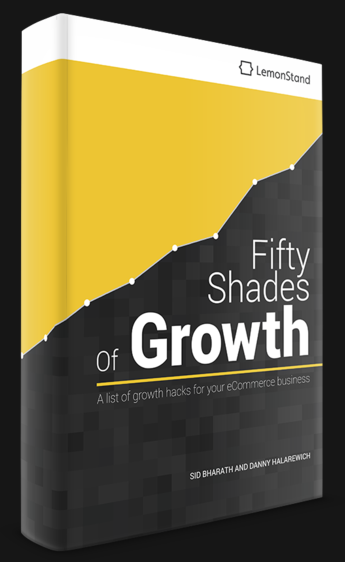 (Source: Lemonstand)
This book titled "50 shades of growth" is one of the best e-books on digital marketing trends, tailor-made for digital marketers who are into the e-Commerce business. The book is all about e-Commerce and is very useful for the e-Commerce business.
This e-book for digital marketing contains 50 top rated tips and tricks on e-Commerce business growth, which helps to elevate your brand to the next level. The book contains all the steps explained in a detailed and easy to understand manner.
The tips mentioned in the e-book are well tested and applied by experts who have got the best results and have grown from scratch to being one of the top e-commerce companies. It even provides many wonderful tips, that you can experiment with, and implement.
You can also find a full list of optimization and marketing tools. Interested people can get good deals on the tools and users can use it.
HOW TO GENERATE LEADS USING INFOGRAPHICS by Hubspot and Piktochart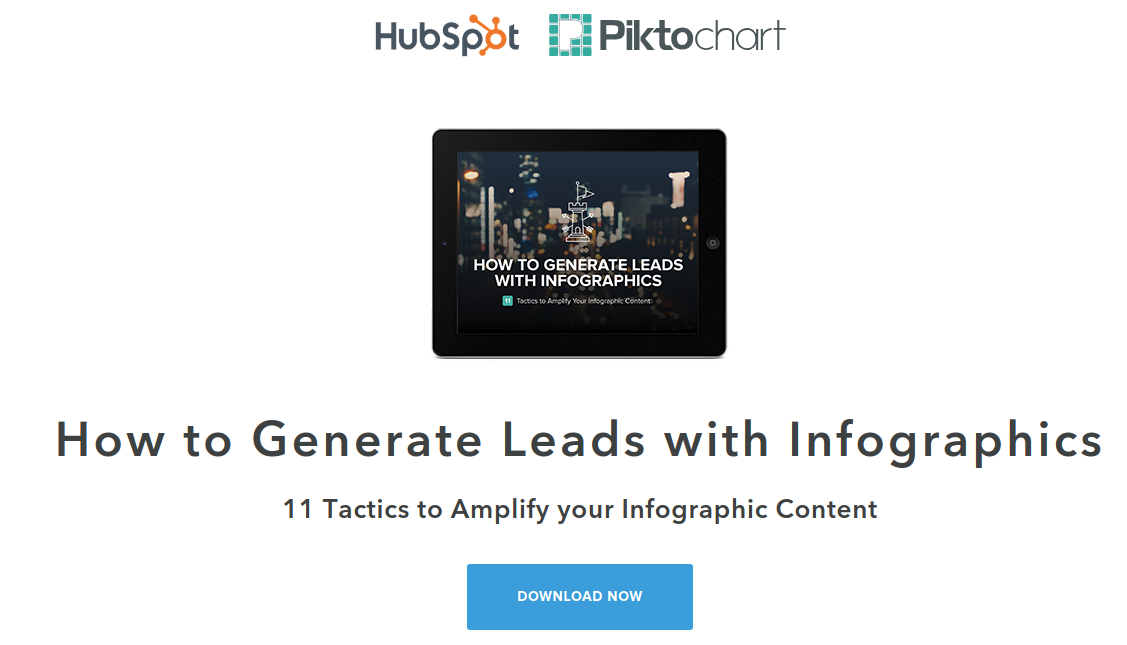 (Source: Hubspot)
Creating content that attracts users' attention is important. Making this step work – infographics, visual contents, graphics, data, graphs etc. is very crucial to implement, as this can improve the conversation with the viewers.
Infographic itself doesn't work all the time. Without a perfect working strategy behind it, the idea of infographics may fall apart. To overcome this, Piktochart collaborate with HubSpot to make this happen.
In this e-book for digital marketing "How to generate leads with infographics?" you will find 11 crucial tips that will help to improve your lead generation by using infographics. This ebook is considered to be the best e-book for digital marketing in generating leads.
You can easily learn how to write content in the form of infographics, how to optimize infographics for a social media campaign, and also get a clear idea on how to pitch infographics to media and come to know the outlets that are content curated.
CONVERSATION NOT CAMPAIGNS by Marketo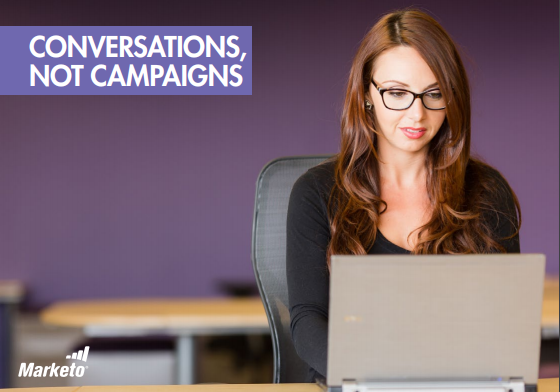 (Source: Marketo)
Conversation not campaigns is the e-book for digital marketing that gives a detailed information on topics like "how to conduct email marketing?" Opting for the old technique "batch and blast" is not ideal for all the cases.
It suggests to address an individual and speak to them directly in a personalized way, by having a generic conversation and thus attract more number of people. This can't happen by blasting random emails.
The users need a reason to visit your website and engage in your emails. The marketers' need to develop a good rapport and build a strong bond with the users. This is to retain the users. The bond should be one-to-one, not one-to-many. This is the best e-book for digital marketing trends that throws light on email marketing and also on the behavioral filters and the triggering messages that are based on the behavior.
THE CONVERSION MARKETERS GUIDE TO LANDING PAGE COPYWRITING by Unbounce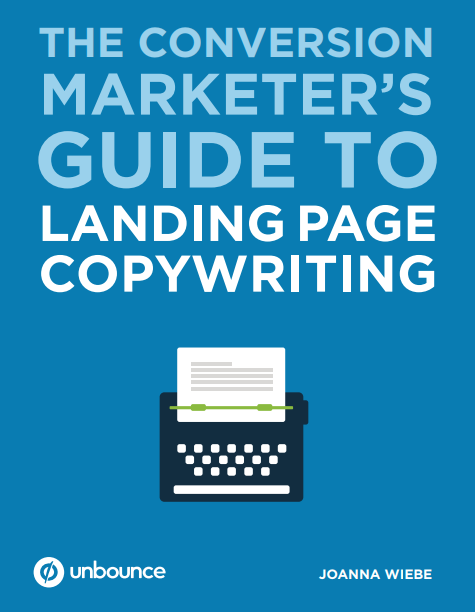 (Source: Unbounce)
It is a known fact that the quality that we maintain in landing the page determines the success or failure rate of the marketing campaign that we run – a challenge that is hard to be accomplished. It is much more than just putting a headline and purposeful copy altogether.
If you are worried that your marketing strategy is driving away the customers, then "The conversion Marketer's guide to landing page copywriting" is the best e-book for digital marketing trends that will help you in writing content for a good landing page. It even showcases the importance of the critical copy that must be present for the conversions.
It is an e-book consisting of 56 pages and gives all the professional tips and tricks that will help in attracting visitors and improving the landing page quality. You will also get to know "What are the click-worthy calls to action?", or "What are the elements required for high converting landing pages?"
PAID AND EARNED: TWO SIDES OF INFLUENCER MARKETING by Jay Baer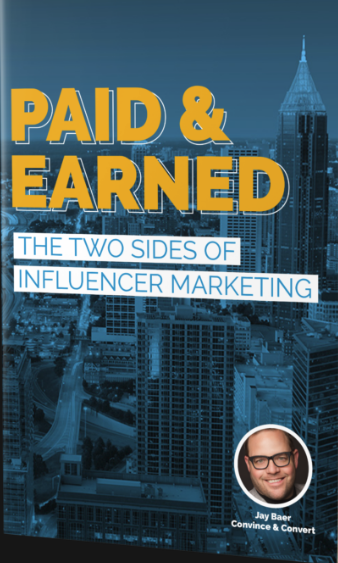 (Source: ConvinceAndConvert)
For conversions and making your business visible and known, the best strategy to follow is Influencer marketing. Sometimes, marketers consider it a bit confusing, but if implemented in the correct way, the results would be positive.
Paid and earned: two sides of influencer marketing e-book for digital marketing tells about what we should do to have a successful influencer marketing, and what should your focus be on when coming to paid marketing or earned influencer. All these kinds of questions are answered in this e-book.
You can also find some other important aspects viz the reasons as to why brands need influencer marketing etc. The influencer marketer requires brands so that new content can be developed and posted for the followers.
This is the best e-book for digital marketing trends that you should follow to know about different types of influencers like the mega, micro and macro, their impact and a lot more.
THE MARKETERS GUIDE TO FACEBOOK by Contently
Facebook has become an entirely new world for people inside the universe. The power of Facebook has become immeasurable and unparalleled when compared to other sites in all perspectives. Social media owes the world's 25% of the traffic.
For all the brands to promote themselves, Social media acts like a gold mine, where you can keep your customers engaged and can bring their attention to your official website.
"Marketers guide to Facebook" by Contently, is the best e-book for digital marketing trends, mainly in social media. The book gives in-depth information on how to undertake Facebook marketing? You can even be able to run how to leverage the Ads in the social media platform to get better results. You can also find the best tips and tricks from industry experts and the case studies related to it from the brands who have mastered social media platform.
INSTAGRAM FOR BUSINESS FOR DUMMIES by Jenn Herman, Eric Butow, Corey Walker
(Source: Allitebooks)
The social media platform 'Instagram', can be efficiently used for increasing the business visibility, lead generation and conversion of the leads. Developing the brand insights will help in creating a brand awareness among people – on the products and services provided. Using Instagram for brand promotion will help connect the younger generation with a large sea of people, connected to social media. This will bridge the gap.
Business or brands can easily showcase "what they are doing" and can offer a view on the prospects to the customers. It can also build your brand profile on Instagram and improve engagements and reach. Create enticing campaigns, draw people to interesting contests and provide gift coupons to the winners.
These are some tricks and tips that you can learn from this e-book "Instagram for business dummies" which will help enhance your business and reach, through Instagram. This is how you can leverage your brand name in the social media.