I know I know what's running through your minds! The Google I/O has come up with some of the fantastic features that put all of us in awe. Well, I wouldn't say it's as good as the Google I/O but it's definitely something the IOS users would look forward to. Apple has come up with some great features on all the four of its flagship devices. Let's not waste much time and get into this one after the other.
Apple tackles the helplessness of every addicted user
:
Current situation in everyone's mind is their lack of awareness for the time we spend on social media. Apple comes up with just the remedy we all needed for this. Phone addiction tool. You can restrict yourself to using the smartphone by setting the appropriate time for your usage. As soon as your time is about to runout, you will be notified so you'd understand when to stop.
Credits: www.theverge.com
After all the criticism smartphones has been receiving regarding its addiction, this was much required.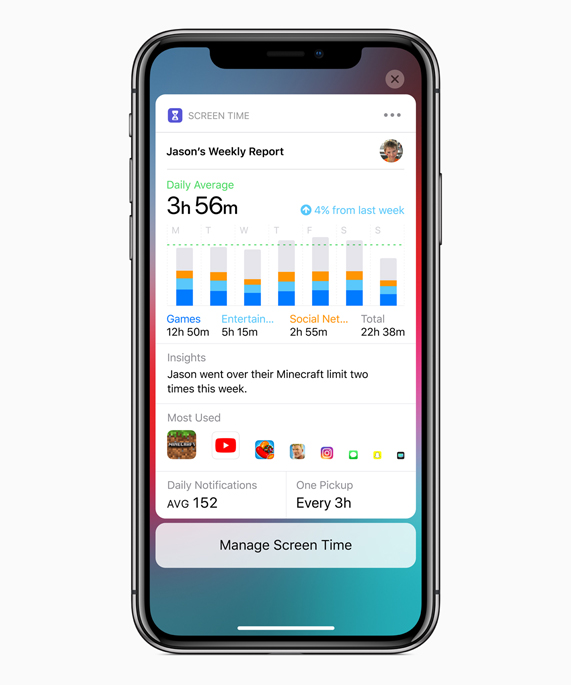 Credits: Apple
You can also find the summary for the same that would tell you how you need to go about in getting over this addiction.
Not new but improved Siri
:
The next update is on Siri. You would be disappointed if you hope it to be as good as the "Google Duplex" feature that lets AI does all the job of calling by itself and making the appointments for you. This is more like an improvement as no special features have been added for your comfort. You can order a series of commands and Siri would perform actions one after the other.
Another improvement probably the undermined feature is that now it supports the commands for the third party app, this might be the beginning of even better reach of Siri throughout your iPhone. You even get to use the shortcuts so you can order your coffee with the required specifications.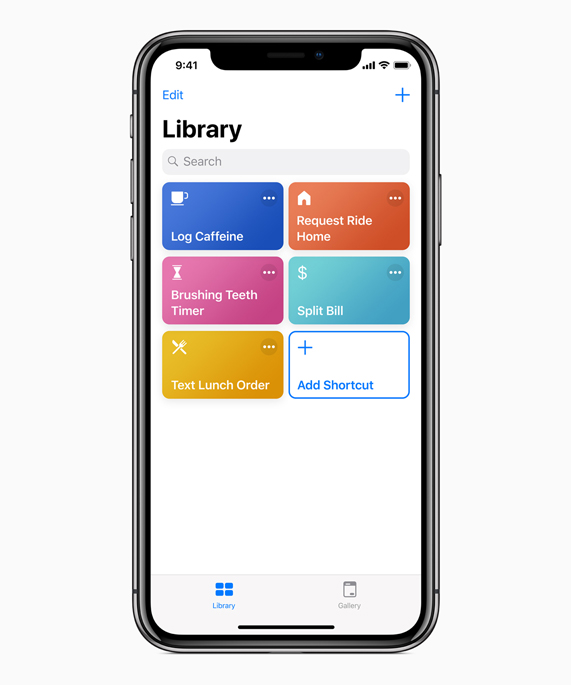 Credits: Apple
Memoji though not for every ios user
:
This feature is what the social media fanatics have waited for. A new improved version of Memoji is coming down where you can create on with your own features along with the "tongue sticking out your mouth". You can customize the size of the face, shape of the jaw, complexion, beard and also use different props to fashion your Memoji the way you want. The only problem is that it's only available for the iPhoneX users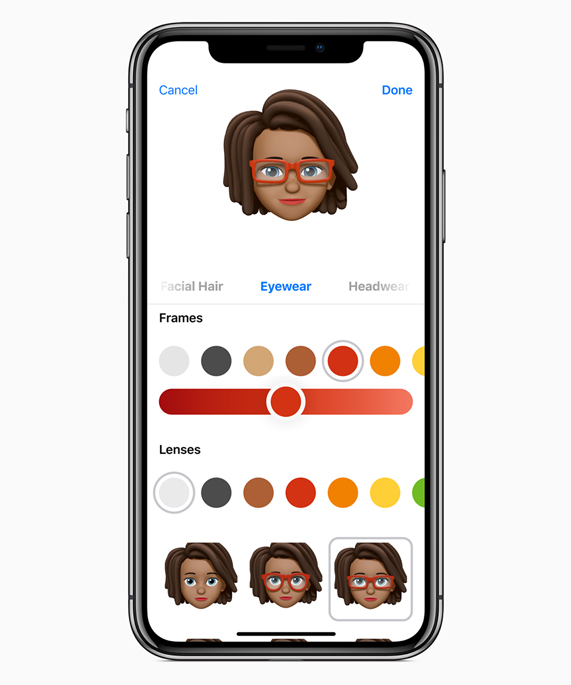 Credits: @Apple
Group Facetime, a relief
:
Finally, Apple has learned something great from hangouts. Now you'll be able to connect up to 32 people on your facetime so all of you could have some good Video calling here itself rather than installing Hangouts.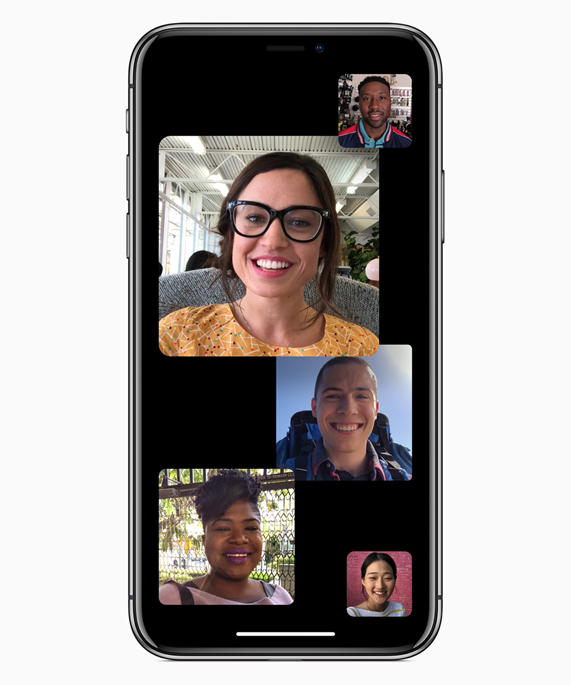 Credits: Apple
Augmented Reality, probably the future
:
I think no one's alien to this feature from the previous IOS announcement. Let me tell you something even more interesting, now you can even measure the dimensions of your room or any other 3D objects that you need the measurements for. Go ahead and sell your flats or the place you live and the buyer would just be able to see whatever it is even if they are miles apart along with each and every dimension.
Credits: Apple
Shared AR Experiences
https://www.apple.com/newsroom/2018/06/apple-previews-ios-12/?videoid=fb96958929ab948181a3c442f4075142
Credits: Apple
The AR platform is growing day by day on the IOS devices.
ARKit 2 enables developers to create different AR apps that they could use for their own purpose. Designed in collaboration with Pixar, a new open file format, usdz, makes it easy to experience AR nearly anywhere in iOS, including apps like Messages, Safari, Mail, Files and News, delivering powerful graphics and animation features.
Other features in a nutshell
:
Apple Books is redesigned to make it easier to discover and enjoy books and audiobooks, and the Book Store tab makes it easy to explore new titles and browse the top charts, curated collections and special offers.




Apple News is redesigned to make it easier to discover new channels and topics or jump straight to favourites, and on iPad, a new sidebar makes navigation even simpler.

Stocks come to iPad and illustrates how the market is moving with easy-to-understand quotes and high-quality news.

CarPlay adds support for third-party navigation apps displayed right on the car's dash — joining music, messaging, calling and automaker apps.

Voice Memos is now available on iPad and adds iCloud support to sync recordings and edits across devices. A new design makes it easier to capture, share and edit recordings.

Siri translation expands to more than 40 language pairs and brings more knowledge of sports, celebrities, food and nutrition. Siri can also surface favourite photos by person, place, event, time and topic.

Wallet on iPhone and Apple Watch adds support for student ID cards, making it more convenient to access everything on campus.
Source: https://www.apple.com/newsroom/2018/06/apple-previews-ios-12/
WatchOS5:
Coming to OS5 of apple watch, this might be something you'd love to look forward to. This update would enable people to be more active and interactive on the social basis when coming to taking care of health.
Activity competitions:
People love working out when they are accompanied by someone. It helps them push their limits even harder. With the new Apple watch os upgrade, you can directly challenge your friends and your watch would share their physical tracks so you can catch up with them. This would probably prompt people to live healthy lives because who doesn't love competitions?
In the end, you get to earn the credits, a little something who loves to be rewarded. Sharing the credits would probably have the user enjoy this even better.
Credits: Apple
Auto-Workout Detection:
Though this isn't anything to be amazed about as it has been seen in multiple devices but here the only and the key difference is that this has been more interactive with the user than it has ever been. You also get credits for working out. You will be notified when you've stopped working out and would prompt you to go on. Yoga and hiking have been added as a new type of workout.
Credits: Apple
Pace Keeper:
Apple has certainly worked on its accuracy and made it sure that tracking every tiny thing is important. Pace keeper is a feature wherein the user would be able to track and gauge his pace of running with respect to his previous pace. It alarms you when you go behind your usual pace.
Credits: Apple
Walkie-Talkie:
Yep, the one many of us have been waiting for. Why they haven't introduced this until the other day is alien to all of us but one thing is for sure, this would definitely prompt people to purchase apple watches when compared to other smart-watches.
Credits: Apple
Other Features:
There are some other features but wouldn't need any individual descriptions as they aren't that huge to talk about.
Introduction of podcasts where users can listen to their podcasts on the go

Based on your preferences, your routines and selection of apps, siri has been upgraded to become a better personal assistant like showing you the shortcuts for the usual routes you take or showing the type of music you desire or showing scores of the teams you follow

Student ID cards can directly be displayed as a soft version on your watch itself.
I would say apple watch's upgrade is a little better and more exciting than the IOS12
Apple introduces macOS Mojave:
Mojave is the new word on the market now though not exciting as it sounds but yeah it does sport some good features. Dark mode and redesigned app store are some of its base features. News, Stocks, Voice Memos and Home applications are now made available on Mac for the first time.
The quick actions can help create and password-protect PDFs and run custom Automator Actions on files right from Finder. Quick Look provides a fast, full-size preview of a file, allowing users to rotate and crop images, mark up PDFs and trim video and audio clips without ever opening an app.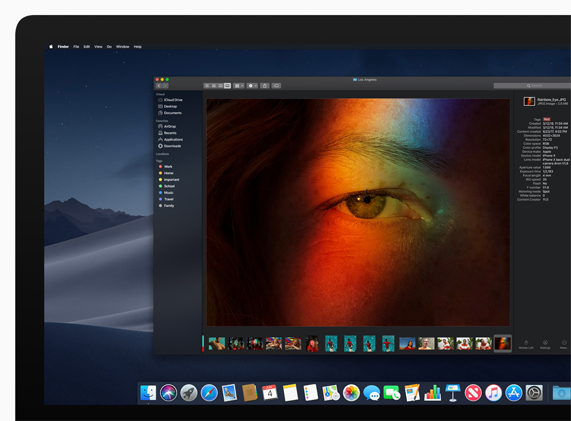 Credits: Apple
Group Face-Time:
This is no different from the IOS 12 update but if you haven't gone through the IOS12 then let me just preview this out for you. You can talk to multiple people on face time at once. People can even join from iPad or iPhone to the mac.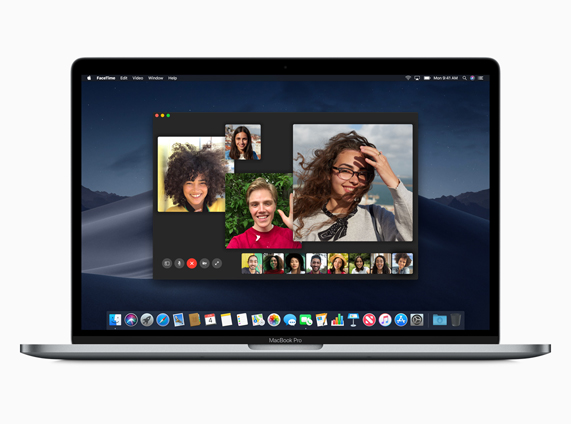 Credits: Apple
Other New Features:
Screenshots deliver new on-screen controls for easy access to every screenshot option and new video recording capabilities. A streamlined workflow enables easy screenshot sharing without cluttering the desktop.

Continuity Camera allows Mac users to take a picture or scan a document nearby with their iPhone or iPad and have it appear instantly on their Mac

Markup tools are now integrated into Finder, Quick Look and Screenshots, making it fast and efficient to add comments to content and share with others.
Source: https://www.apple.com/newsroom/2018/06/apple-introduces-macos-mojave/
Apple TV 4K tries to deliver a quality cinematic experience with tvOS 12: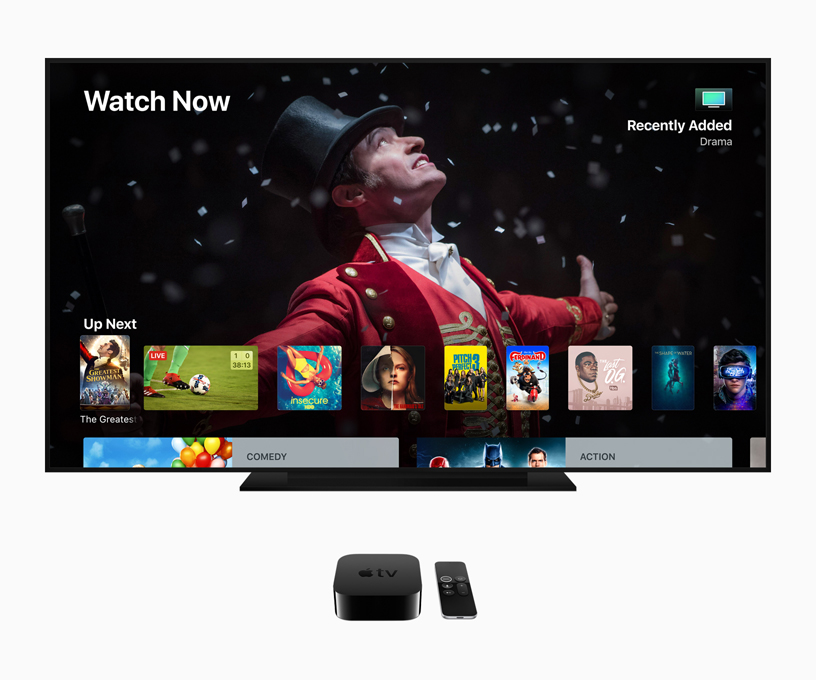 Credits: Apple
There's not very much to talk about in here but what's the best move Apple has made is introducing the Dolby Atmos which is probably one of the best experience for movie lovers. If you don't know it yet, Dolby Atmos provides a 3D experience of the sound system.
The apple tv icon has been added to the control centre bar of the iPhone to have an easy access to the controls.
Credits: Apple
Conclusion:
From the above features and with Google I/O blowing people's minds, it's evident how disappointing it is that the IOS 12 hasn't been able to come up with any astonishing features. It has concentrated more on improving its features rather than competing with its rival. I wouldn't be surprised if some don't prefer to upgrade when it comes to IOS 12.