According to the statistics, 40% of the content provided on the internet is repurposed or rewritten. Repurpose actually means getting all the texts, contents, research work, images and then by using different multiple ways and implementing them in as your content as a refurbished and formatted content. In simple words, we can say gathering information from different sources and summing up to a totally different and creative your own blogs, contents, articles, ebooks etc.
The information you collect can be from anywhere not necessarily from the online platform it can from the physical means like the newspapers, magazines etc. can even convert some of the important data to infographics, graphs etc. making them look attractive and catchy for anyone who reads your articles, blogs, ebooks etc. all these repurposings or rewriting things are called as the smart work than doing hard work.
Working hard is a very good thing some marketers out there always want their work to original under their name every time they work. But with so much content that is available out there, it becomes very important to stand out unique from all of them. But every time creating a new content entirely takes a lot of time instead repurposing it time to time by adding new important things, removing some old things repurposing it with time also gives a lot of boost to the content and instead saves times and resources and attract a lot of leads.
Below is the survey conducted OkDork about the average share generated by different content types: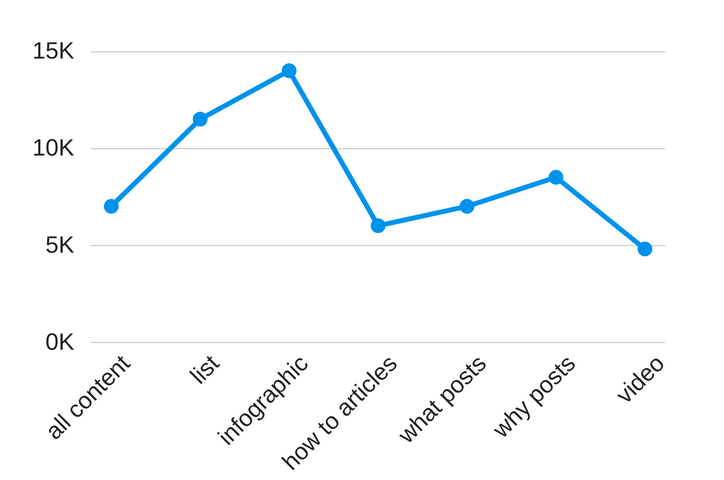 WHY SHOULD CONTENT REPURPOSING BE DONE?
Repurposing the content or else known as rewriting your present content by adding important things and by removing the unimportant things as it has a number of benefits which can be listed as below:
Reaching audience: whatever we do it is just to reach the audience, and users basically prefer infographics than the texts. And generating the content according to the customer's needs is one of the important things. Rewriting and adding more information through infographics grabs the attention of the people more.
Rewriting the old content: while cleaning your room sometime you may find your old favorite book. Whenever you see that you always think to take time and read it but unfortunately fail to do it. And it always feels really great when you stumble upon such master. And from next time to remember to read it, you should dust it out, clean it and keep on the front row which reminds you to read it every time you see it. Similarly, your content also should be refurbished or rewritten with some new contents and infographics which attracts the customer's attention at the first go.
Making your efforts work: when you put all your effort into a content you will always want your content to turn out to be the best one. Just having a good quality content is not enough there are some hidden qualities also involved in it that may affect your content. Repurposing whereas helps to let your article to get into front once again and allows people to see your blog once again. And it is just like a second-time content promotion.
Below are the approaches that should always include while repurposing a content:
Updating your content from time to time. You should always keep on updating the content with necessary data and infographics.
Always keep on expanding your content by providing more and more relevant data and adding it to the already existing data.
Reformatting the contents should be done because it again allows your blog to come to the front and which enables viewer see your content again or add on the new viewers which initially increases your audience's.
IMPORTANT WAYS TO REPURPOSE THE CONTENTS
Video tutorials or Webinars: Webinars are always a great idea that draws you a lot of leads and attendees. And repurposing your webinars into youtube is the best you can do. Because everyone out there won't be able to make up for your webinar and youtube videos of your webinars then your valuable content lives on.
This will automatically drive a lot of people to your webinars and videos as you would be having all the videos stored and available for the audience's which will help in grabbing the attention of the new viewers also.
Guide to old blog posts: Suppose you have written a very good article about anything, always remember to repack those blog posts into a completely new article. For example, in past if you have written about why digital marketing, what is the importance of digital marketing, different functional parts in digital marketing, jobs in digital marketing, how to choose digital marketing course etc. you can effectively be combined this all and make them into a "Complete Guide to Digital Marketing".
This really works out you just have to do some coating and crafting upon your old blogs and you are ready with a new article.
Turning a blog to a podcast: after a tiring day at the office or early morning wake up people usually don't prefer to hang on the data provided on the internet and check the whole article, instead, they would be interested sitting back and listening to something. Whereas you have the script ready podcast it in social media is a mindblowing way to repurpose your content. You should always know your target audience and prepare the content according to their preference. Never ever try to sell yourself bluntly and should not contain long commercial. Should be brief, clear, informative and topic oriented. Nearly 94% people using podcast use social media wherein 48% people follow brands.
REFERENCES
https://neilpatel.com/blog/does-repurposing-content-work-heres-a-data-driven-answer/
http://www.frac.tl/repurpose-successful-content/
https://www.castleford.com.au/content-marketing-blog/repurposing-content-11-ways-can/